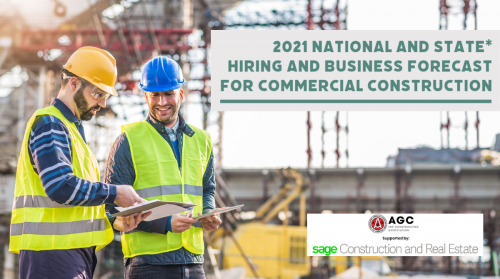 Few Construction Firms Will Add Workers In 2021 As Industry Struggles With Declining Demand, Growing Number Of Project Delays And Cancellations
New Industry Outlook Finds Most Contractors Expect Demand for Many Categories of Construction to Decline, Few Firms Expect the Industry to Recover to Pre-Pandemic Levels Soon, but will Sustain IT Investments
Most contractors expect demand for many types of construction to shrink in 2021 even as the pandemic is prompting many owners to delay or cancel already-planned projects, meaning few firms will hire new workers, according to survey results released today by the Associated General Contractors of America and Sage Construction and Real Estate. The findings are detailed in The Pandemic's Growing Impacts on the Construction Industry: The 2021 Construction Hiring and Business Outlook Report.
"This is clearly going to be a difficult year for the construction industry," said Stephen E. Sandherr, the association's chief executive officer. "Demand looks likely to continue shrinking, projects are getting delayed or canceled, productivity is declining, and few firms plan to expand their headcount."
The percentage of respondents who expect a market segment to contract exceeds the percentage who expect it to expand – known as the net reading – in 13 of the 16 categories of projects included in the survey. Contractors are most pessimistic about the market for retail construction, which has a net reading of negative 64 percent. They are similarly concerned about the markets for lodging and private office construction, which both have a net reading of negative 58 percent.
Read more.
Short summary remarks by Ken Simonson, Chief Economist, AGC of America:
Watch the full recording of the virtual media event below.
Materials:
Regional results:
State-specific results:
You can also view results for open-shop, union, small (under $50 million), mid-size ($50.1 to 500 million) or large (over $500 million) firms.