In this ever-changing technology landscape, AGC of America is committed to providing its Members and Chapters with access to the knowledge and skills needed to implement the technologies that are changing our industry. The AGC professional staff implements and supports a wide spectrum of opportunities for Member utilization of new technologies and understanding of the best practices.
Working alongside the AGC professional staff are the members of the IT Steering Committee who are up-to-speed on the trends and changes in construction technology and are able to add valuable contributions to AGC's technology related initiatives. The AGC IT Steering Committee consists of IT Leaders from AGC General Contractor and Service Provider membership.
AGC IT Forum Conference
Now in it's thenth year, this annual technology conference is the construction industry's one-stop shop for great discussions and presentations on important technology topics such as Emerging Technology Trends, Affordable Solutions, Cloud Computing, Security, Drones and much more. The 2018 IT Conference will be held at the Sheraton Hotel in downtown Chicago, Illinois on August 15 - 17. To get more details, visit http://meetings.agc.org/itforum.
IT Steering Committee
The Mission of the IT Steering committee is to maximize the effectiveness of electronic information systems in a logical and useful manner to the benefit of the membership and chapters of the AGC of America.
As the leading construction industry association, AGC is always interested in identifying, leading and promoting initiatives that are good for our contractor membership and our industry as a whole. Some of these initiatives include:
2018 Tech Track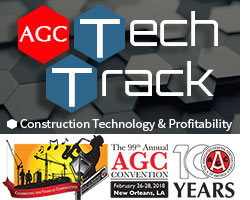 If you are attending the 99th annual AGC Convention in New Orleans, Louisiana, don't miss the three Tech Track Panels on Tuesday, February 27. Hosted by leading technology experts, these panels will help move any company efficiently and effectively into the future of construction. Click here for more information.
TechBrief Newsletter
This newsletter is designed to convey technology information, trends, and happenings in the construction industry. This newsletter also provides information on tips and tricks, as well as high traffic conversations from the IT Forum list serve discussions.
Archive | Subscribe
Get Involved
Connect on LinkedIn
Construction technology professionals: share and exchange information via the AGC IT Forum Group on LinkedIn.
AGC eForums
The AGC eForums are a collection of email listservs dedicated to the exchange of information on various topics. There are nearly 60 eForums on topics as varied as: human resource practice and policy, safety and health, taxes and fiscal policy, project delivery, the environment and all of the contracting divisions.
See more at: https://www.agc.org/connect/divisions/agc-groups