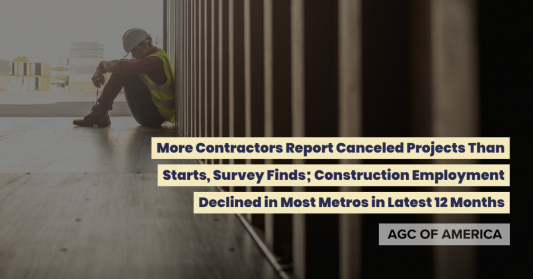 Houston-The Woodlands-Sugar Land and Brockton-Bridgewater-Easton, Mass. Have Worst 12-Month Losses, While Dallas-Plano-Irving, Texas and Walla Walla, Wash. Lead in Construction Job Increases
Construction firms are experiencing widespread project deferrals and cancellations, along with disruptions to ongoing work and few new project awards, as the economic damage from the pandemic drags down industry employment in metro areas across the nation, according to a new survey and an analysis of new government data that the Associated General Contractors of America released today. Association officials urged Congress to pass new coronavirus relief measures to head off further job losses.
"The survey results make it clear that the months-long pandemic is undermining demand for projects, disrupting vital supply chains and clouding the industry's outlook," said Ken Simonson, the association's chief economist. "Without new federal relief measures, these challenges pose a significant threat to current construction employment levels."
Click to watch the virtual media event recording below.
Additional Resources:
Regional Results:
Open vs Union Results:
Firm Size Results:
Under $50 million
$50.1 - $500 million
Over $500 million
Project Type Results:
Building Construction
Highway Transportation
Federal and Heavy
Utility Infrastructure

State Results:
AL
CA
CO
GA
IL
KY
MO
NV
NY
OH
OR
PA
TX
VA
WA
WI

Downloadable Comparative Spreasheet