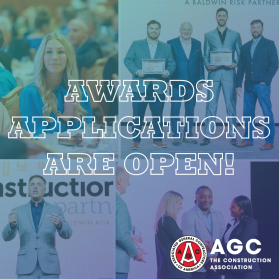 Apply by Wednesday, October 25, 2023!
AGC of America is proud to announce the launch of the 2024 AGC Awards competitions! The Construction Risk Partners Build America Awards (including the Marvin M. Black Partnering Excellence category) and AGC in the Community competitions recognize the nation's most impressive construction projects ranging across the building, highway and transportation, utility infrastructure, and federal and heavy divisions; those contractors excelling in their partnering and collaborative endeavors; and the charitable contractors and chapters giving back to their communities.
The AGC Diversity & Inclusion Excellence Awards recognize contractors that are champions in advancing diversity and inclusion within their workforce, subcontractor-partners, supply chain, the association, and in the communities they serve. The AGC Diverse Business of the Year competition honors an outstanding diverse AGC member-firm that is committed to achieving business success, while also contributing to the association and communities in which they work.
The AGC Innovation Awards showcases free thinkers within the construction industry to provide solutions to construction challenges we face. We are looking to inspire members of the construction industry to craft innovative solutions to pressing industry challenges.
Apply by Wednesday, October 25, 2023 for full consideration. Learn more about AGC of America's awards programs at www.agc.org/awards.