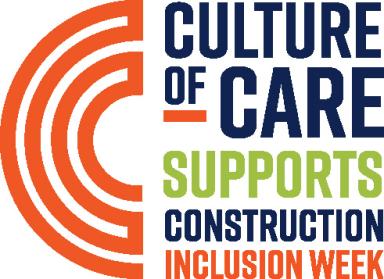 Mark your calendars for Construction Inclusion Week, taking place October 16-20, 2023. This week marks a crucial opportunity for us to come together and actively support diversity and inclusion in the construction industry through our Culture of CARE program.
New This Year: A Four-Part Webinar Series, sponsored by Procore, that delves deep into how construction firms have successfully implemented a Culture of CARE through the lens of Construction Inclusion Week's daily themes of Commitment & Accountability, Belonging, Supplier Diversity, & Workplace Culture. These webinars are designed to provide actionable insights and strategies that can transform the way your company approaches diversity and inclusion in your workplaces and on your job sites. These webinars are free for AGC members. For non-members, the entire series is available for a modest fee of $199.
Finish out the week with the theme Community Engagement and host a community event at your company. Please share with us any events your company schedules. Additionally, we have developed an arsenal of Culture of CARE-specific resources that your company can leverage throughout the week to support the daily themes. These resources are designed to empower companies with practical tools and guidance for creating a more inclusive and welcoming work environment through Culture of CARE.
Let's make Construction Inclusion Week 2023 a resounding success for our industry. By joining forces and embracing the Culture of CARE, we can build a brighter future together.