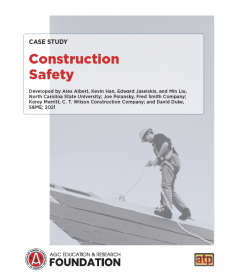 The AGC Education and Research Foundation has funded the development of a series of construction case studies that can be used by faculty members in college and university construction education programs to supplement their primary instructional materials. The latest in this seres was completed in partnership with Developed by Alex Albert, Kevin Han, Edward Jaselskis, and Min Liu, North Carolina State University; Joe Polansky, Fred Smith Company; Korey Merritt, C. T. Wilson Construction Company; and David Duke, S&ME:
Case Study: Construction Safety
Safety management in construction workplaces can be challenging due to the dynamic, temporal, and hazardous nature of construction operations. The challenge becomes even more complex when multiple employers, subcontractors, and workerswith sometimes diverging interests and incentivescome together to work on complex projects. Not surprisingly, construction workplaces account for a disproportionate number of workplace incidents. In addition to the pain and distress these injuries cause, they also result in significant costs and workers' compensation claims that threaten the sustainability and success of many construction businesses. This case study presents an incident scenario that illustrates the challenges of managing safety in a multi-employer workplace.
Case Studies may be accessed at no cost on the AGC Store website. Once the order is place in the bookstore, use your email address and account password to access the AGC Learning Center at https://learning.agc.org/.