Bryan Hubbard, Purdue University, 2023 Outstanding Educator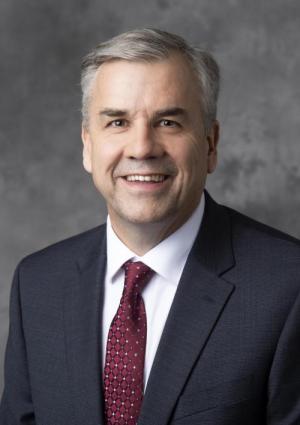 The Outstanding Educator award is based on a nominee's academic contribution as well as his/her work with students outside of the classroom and involvement with colleagues in the industry. Candidates for the award must be full-time, teaching faculty members with four years minimum teaching experience in an ACCE or ABET-accredited university construction program or construction-related engineering program.
Bryan Hubbard is a Professor at Purdue University where he teaches courses in estimating, design construction integration and industrial construction in the School of Construction Management Technology.  Bryan has been at Purdue for the last 20 years, focusing his time and efforts to recruit and develop young adults for careers in all areas of the construction industry.  He has taught nineteen unique courses in construction addressing a wide range of the construction curriculum.  Bryan's research interests include workforce development, construction supply chain management, modularization, construction safety, sustainability and industrial construction. He has held multiple leadership positions at Purdue including Head of the School of Construction Management Technology from 2013 to 2016; in this role Bryan led a curriculum transformation to incorporate real world construction projects at throughout the undergraduate program.  Bryan also oversaw the creation of the Design Construction Integration degree; this degree focuses on trans-disciplinary studies across all areas of the built environment.  Prior to coming to Purdue, Bryan worked in industry as an engineer supporting the construction of large industrial systems; much of his work was in the power sector, and his design and construction experience spans the United States and Europe. Bryan was the lead inventor in the development of a new processes for water reclamation, water purification, and enhanced performance in industrial cooling systems and holds three patents in this area. Bryan received his Ph.D. in civil engineering from Texas A&M University and his master's (MSE) and bachelor's (BSME) degrees from Purdue University. Bryan is licensed as a professional engineer in the State of Indiana.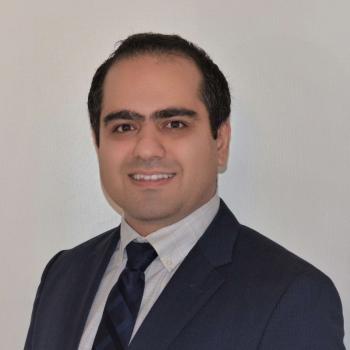 Reza Akhavian, San Diego State University, 2023 Meritorious Award
New in 2023, the AGC Education and Research Foundation voted to award select Outstanding Educator applicants with the Meritorious award to highlight educators who are early in their career in the field of construction but are tracking to be leaders and innovators in industry. Dr. Reza Akhavian is an educator, researcher, and industry consultant. He is currently an Associate Professor at the Department of Civil, Construction, and Environmental Engineering at San Diego State University. His teaching and research focus on the development and adoption of advanced technologies such as robotics, AI, IoT, and BIM to enhance civil engineering and construction management processes. Dr. Akhavian is the recipient of a number of honors and awards including the NSF CAREER Award, the ASCE Construction Institute Outstanding Young Professional Award, and the ENR California Top 20 Under 40.
Alec Kalogeropoulos, Roger Williams University, 2023 James L. Allhands Essay Competition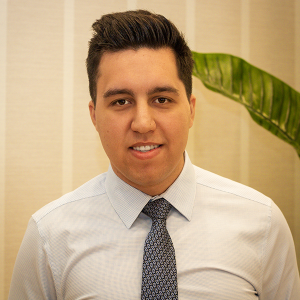 Alec Kalogeropoulos is a Senior at Roger Williams University, pursuing a bachelors degree in Construction Management. Outside of his studies, Alec is very involved with the construction related clubs and competition teams on campus. He is the President of the AGC Student Chapter at Roger Williams University, as well as the President of the Architecture, Engineering, & Construction Club. He serves as the Captain for both the DBIA Design-Build Team and the ASC Commercial Competition Team. The latter of which has won 1st place at the ASC Region 1 Competition in 2022. Following his graduation from Roger Williams University this upcoming Spring, Alec will be joining BOND Civil & Utility Construction as a Project Engineer out of their Providence, Rhode Island office.
Amine Ghanem, Allhands Essay Faculty Sponsor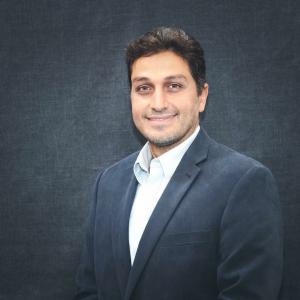 Amine Ghanem has been involved with the construction industry for 20+ years with the last 11 years spent as a Professor of Construction Management at Roger Williams University in Bristol, Rhode Island. He has been involved in multiple aspects of construction including: commercial, heavy civil, and international construction. Since joining Roger Williams University, Dr. Ghanem focused his interest on creating, developing and reshaping new and existing heavy civil courses as a result of the increasing students' and industry demands.
During Dr. Ghanem's time at Roger Williams University, he has been extremely active with students. He served as faculty advisor for the Construction Management Club and the International Student Club. He reactivated the Associated General Contractors (AGC) Student Chapter and has been the faculty advisor since 2015. He has coached/advised the Heavy Civil Competition Team for the Associated Schools of Construction (ASC) Region 1 Student Competitions for the past 11 years.
Dr. Ghanem is the recipient of many teaching and education awards. The award list includes receiving in 2018, the Regional and International Outstanding Educator awards, receiving in 2016, the Excellence in Teaching award, and receiving in 2015, the National Teaching Award, all awarded by the Associated Schools of Construction. He was also awarded in 2010, the Outstanding Engineering Merit Achievement Awards, by the Engineers' Council of San Fernando Valley, California. Dr. Ghanem is also a proud recipient of the Prestigious AGC Education and Research Foundation Summer Internship in 2015.Book of Great Teachers in 2018 is the first such honor for the School of Construction Management.
When he is not in classroom, Dr. Ghanem does consulting by assisting in performing quantity takeoff, estimating and preparing competitive bids for heavy civil projects. Dr. Ghanem is a lucky husband and a proud father of three children.
James L. Allhands 1st, 2nd and 3rd Place Winning Essays, 2023:
First - Alec Kalogeropoulos of Roger Williams University
Second – Thomas Welch of Purdue University