Joe Levens,  Pittsburg State University, 2022 Outstanding Educator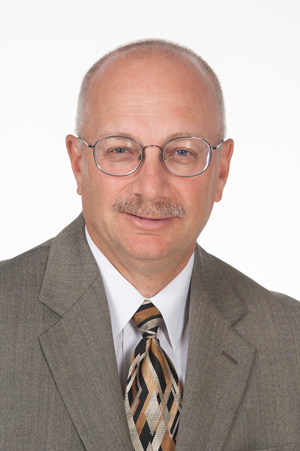 The Outstanding Educator award is based on a nominee's academic contribution as well as his/her work with students outside of the classroom and involvement with colleagues in the industry. Candidates for the award must be full-time, teaching faculty members with four years minimum teaching experience in an ACCE or ABET-accredited university construction program or construction-related engineering program.
Joe Levens is a professor in the School of Construction at Pittsburg State University in Pittsburg, Kansas.  He is completing his twelfth year at Pittsburg State after completing a 32-year career with AGC of Kansas member Martin K. Eby Construction Co., Inc.  Professor Levens teaches courses in contract administration, construction management, and cost management.  He has also taught courses in safety and lean construction. 
At Pittsburg State, Joe has served on numerous search committees for positions at the college and university level including two presidential searches.  Since his arrival at Pittsburg State in 2010 he has served as the faculty advisor for the AGC Student Chapter.  During this time the student chapter has been recognized by AGC of America as the Outstanding Student Chapter in 2018 and 2nd place chapter in 2012. Joe also serves as the director of the Kansas Center for Construction Advancement located within the School of Construction. Its mission is to provide continuing education opportunities for construction professionals, K-12 engagement activities and building relationships with community and technical colleges throughout the 4-state region.
Joe is also the event coordinator for the PSU Construction Alumni Association.  In this role, he works with local construction alumni committees in Wichita, Kansas City and Pittsburg to host three golf tournaments and two clay shoots across Kansas to raise funds for the primary purpose of scholarships and program support.  During his tenure as the event coordinator the association has raised over $900,000 and awarded scholarships to 553 students.
Joe's relationship with AGC started in 1976 as a member of the PSU AGC student chapter which was chartered in 1975.  His professional life included a 32-year career with AGC of Kansas member Eby Construction.  His professional career included key leadership positions in field and project management, estimating, and corporate management while rising to the rank of senior vice-president.  During this time he also served on the AGC of Kansas board of directors and led the organization as the chapter president in 2006.  He continues his relationship with AGC of Kansas as an ex-officio member of the board of directors.
Professor Levens has also served on numerous AGC national committees including: Lean Construction Forum Steering Committee, Lean Construction Education Committee, AGC Student Chapter Task Force (Chair 2018-2020), and the Construction Careers Task Force. He has taught numerous training sessions as an instructor for the Supervisory Training Program units and the AGC Lean Construction Education Program for the AGC of Kansas and the Kansas City Chapter. In addition, he is also an Authorized Construction Trainer for OSHA.
Joe completed his Bachelor of Science in Technology degree in Building Design and Construction in 1977 and his Master of Engineering Technology (Construction Management) in 2002, both at Pittsburg State University. He greatly appreciates the support of his wife, Diane, peers, students, and industry professionals who made this selection possible and is honored to be the AGC 2022 Outstanding Educator.
Benjamin Shelton, Purdue University, 2022 James L. Allhands Essay Competition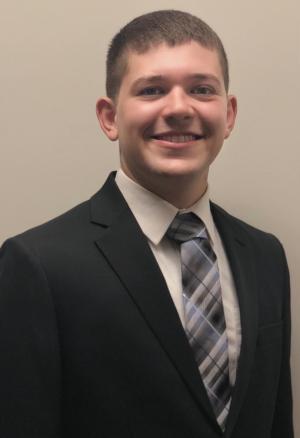 Ben Shelton's passion for construction started at a young age as he helped his father, a construction manager in the heavy industrial field, with projects around the house. Ben confirmed his desire to pursue Construction Management through completion of the Project Lead the Way architecture, construction and engineering curriculum offered at his high school. Ben's favorite high school activity was being an active member of Boy Scout Troop 533 where he put in countless volunteer hours with community service projects. He oversaw the installation of a playground as his Eagle Scout project and earned the rank of Eagle Scout in 2017. Ben will graduate from Purdue University in May with a Bachelor of Science in Construction Management Technology. Through summer internships with Baker Concrete Construction, Ben has gained extensive experience on structural concrete and concrete flatwork. Outside of the classroom, Ben is a Polytechnic Institute Student Ambassador and served as the Head Safety Officer for Purdue's Trap and Skeet shooting club. During his time at Purdue, he also has been a faithful volunteer with Habitat for Humanity as he values the opportunity to give back to the community. Ben has assisted in framing over 30 homes in four years and in the past year he has worked side by side with Habitat Lafayette's build director to plan and carry out their concrete work. Ben attributes his success to his parents, his past coworkers at Baker, and faculty at Purdue. Post-graduation Ben will begin work as a superintendent for F.A. Wilhelm Construction Company out of Indianapolis, Indiana.
James Jenkins , Allhands Essay Faculty Sponsor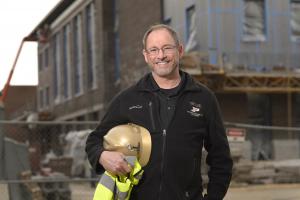 James L. Jenkins has been involved with the commercial construction industry for 30+ years with the last 24 years spent as a Professor of Construction Management at Purdue University in West Lafayette, Indiana. Jenkins began his AGC journey as an officer in the AGC Student Chapter (Builder's Guild) at Auburn University, continued after graduation as a professional constructor, and continues today as the faculty advisor for the AGC Student Chapter at Purdue University. His service to AGC also includes being a former member of AGC's Construction Education Committee.
Jenkins has established himself as a recognized leader in construction safety management, job-site scheduling, and productivity improvement through his teaching and research efforts. In addition to his regular duties at Purdue, Professor Jenkins is heavily involved with teaching a construction supervision course to industry professionals via online courses each semester and in-person at the Carpenter's Union International Training Center in Las Vegas. He has received safety grants from OSHA to create virtual reality (VR) safety training and from the Indiana Department of Transportation to improve work-zone safety.
Professor Jenkins is the recipient of many teaching awards. The award list includes receiving the AGC Outstanding Educator Award in 2005, the Associated Schools of Construction (ASC) Outstanding Educator Award in 2012, being inducted as a Fellow in Purdue University's Teaching Academy in 2016, and receiving the Charles B. Murphy Teaching Award in 2016, which is the highest undergraduate teaching honor that faculty can receive from Purdue University. His induction into Purdue University's Book of Great Teachers in 2018 is the first such honor for the School of Construction Management.
In his spare time, Jenkins enjoys traveling (which includes leading an Ireland Study Abroad program for his students), spending time with his wife and two sons, and supporting Auburn University and Purdue University athletics.
James L. Allhands 1st, 2nd and 3rd Place Winning Essays, 2022:
First - Benjamin Shelton of Purdue University 
Second – Sabrina Pavlova of  Missouri State University