AGC of America is governed by a Management Committee, Board of Directors and a Board of Governors.
Board of Directors
The Board of Directors is the governing body of the Association. The Board has full authority to define policy governing its own conduct and the affairs of the Association.The Board is composed of the AGC Officers, the Occupational Division Chairs and Vice Chairs, the Specialty Contractors Council Chair, the Service & Supply Council Chair, the President of the Executive Leadership Council (ELC), and nine (9) members selected by the President.
The 2019 AGC Officers are: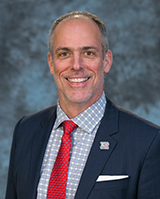 DIRK ELSPERMAN
2019 President
With 29 years of experience at Tarlton, Dirk has worked in all aspects of the company's operations including apprenticing as a carpenter, estimating, project engineering & management, and executive management. His direct project experience includes work in breweries, refineries, sewers & wastewater treatment plants, commercial offices, television stations, and museums.
As EVP & COO at Tarlton, Dirk is ultimately responsible for the successful completion of our projects and partners with Tracy Hart on the administration of the company. He works closely with our project teams in areas of safety & risk management, construction technology, project planning, labor relations, training & education and investments. 
Tarlton Corporation is a St. Louis-based builder with offices/operations in Missouri, Illinois, Wisconsin, and Minnesota. In business since 1946, the third-generation company employs 350 and has revenues in the $170-200 million range. We work under virtually every project delivery type. Annually we perform 40% of our work with our own forces. The company has four divisions (Core Construction, Vertical Concrete, Concrete Restoration, and Hydrovac Services) and serves the following markets: higher education, healthcare, life sciences, power & energy, water/wastewater, institutional, and telecom.
Dirk has been involved in the Associated General Contractors on both a local and national level. In 2013 as chairman of the board for the AGC of St. Louis, he worked through the merger with AGC of Missouri. His involvement also includes governmental affairs, labor policy/negotiating committees, apprenticeship and trust fund committees, and the young constructors' forum (back in the day). With the AGC of America, Dirk has worked on a wide variety of projects and committees, ranging from industry relations to project delivery to lean construction to closely held business issues. He also serves on the executive board for the St. Louis Construction Collaborative, a labor-management group that works to improve the construction industry in St. Louis.
Dirk graduated from Cornell University with a BS in Applied Economics and Business Management. He earned his MBA from Washington University in St. Louis. He is a LEED A.P., a graduate of the AGC Advanced Management Program, and 30 Hour OSHA certified. He serves on advisory boards for the Salvation Army and Olin Business School. In his free time, Dirk enjoys outdoor activities including hiking, rafting, swimming, cycling and running.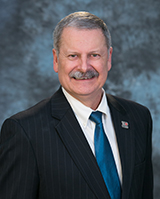 ROBERT C. "BOB" LANHAM, Jr.
2019 Senior Vice President
Bob is a native Texan and a US Army veteran.He is a 1981 honors graduate of Texas A&M University with a Bachelor of Science Degree in Civil Engineering. Bob was a member of the Corps of Cadets and is an alumnus of Chi Epsilon and Tau Beta Pi.He is a registered professional engineer. In 2015, Texas A&M recognized Bob as a Distinguished Graduate of the Department of Civil Engineering. 
Bob started out as Project Engineer with Williams Brothers in 1985 upon separation from the US Army.Over the next 30 years, he worked in virtually every aspect of the business ranging from project management, estimating and contract administration.In January 2013, Bob was named President.
Bob is a life member of the AGC of America's Board of Governors.Over his AGC career through various positions has been privileged to serve 8 years on the AGC of America's Board of Directors (formerly Executive Board).In 2006, he served as Chairman of AGC of America's Highway and Transportation Division.Bob has served two terms as the President of the AGC of Texas (2000 and 2011).He has chaired and served on dozens of AGC committees and taskforces over his career at the state and national levels.Bob served as the chairman of The Road Information Program (TRIP) in 2006 and continues to serve on its Executive Committee.
He and his wife, Pam, have been married since 1983.They have one daughter, Jennifer, an alumnus of Baylor University and an elementary school music teacher.They participate extensively in both Church and Community activities.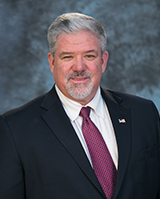 DAN K. FORDICE, III
2019 Vice President
After graduating from MS State University in 1983 with a bachelor's degree in Construction Engineering Technology, Dan went on active duty with the US Army in the 10th Engineer Bn. in Kitzingen, Germany.   While in the 10th Engineers he served as Demolition Platoon Leader, various battalion and brigade staff positions and Company Executive Officer.In 1987 Dan decided to leave active military service and return to his hometown to work in the family construction business.He also joined the MS National Guard with the 2/20 Special Forces Bn.Here he served as Team Commander, various battalion staff positions and Company Commander.He resigned his commission with the rank of Captain in 1994.
Dan is currently Vice President of Fordice Construction Co. in Vicksburg, MS, which is now a fourth- generation family business since his son Nathan joined the firm in August 2018.Dan and his brother Hunter operate Fordice Construction Co. which is mainly a Heavy and Civil Federal Construction firm that also has a small building division and offices in Vicksburg and St. Francisville, LA.   In 2008 Dan and Hunter started Southern Delta Construction, LLC which is a heavy marine construction company in Houma, LA that does mechanical dredging and builds levees and other structures.Dan is currently President of Southern Delta Construction, LLC.
Dan has been very active in the Associated General Contractors of America, both at the local and national level.He has served on almost every committee of the local MS Valley AGC Chapter and was Chapter President in 2001.On the national level he has served on many committees and task forces. He has served as the Federal and Heavy Division Chairman, is a life member of the Board of Governors and served as the National PAC Co-Chairman and on the Executive Board and the Education and Research Foundation Board.Through the AGC, Dan was instrumental in helping to restart the AGC Student Chapter while attending MSU and he was president of the AGC Student Chapter in 1982.
Dan is a pilot, an avid aviator and flies every chance he gets.He flies a variety of airplanes for business, pleasure and in air shows around the country.He prefers the older vintage airplanes and especially WWII trainers and fighters.
Dan has started and helps operate two not for profit foundations located in Vicksburg.The Southern Heritage Air Foundation collects memorabilia of WWII veterans and is preserving five historically significant aircraft.   The Warrior Bonfire Project is helping post 9/11 Purple Heart Veterans deal with their lifelong journey of recovery.
Dan is married to the former Ann Claire Roesch and they have three children.They are members of St. Paul's Catholic Church in Vicksburg where both are very active and have served on the parish council.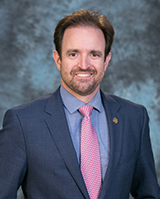 JORGE FUENTES
2019 Treasurer
Jorge Jose Fuentes, PE, is a licensed and registered professional engineer in Puerto Rico. He was born in November 1974 in San Juan, PR to Jorge L. Fuentes, PE and Griselle Alvarez and the brother to Michelle. Jorge studied in Saint John's School, San Juan, Puerto Rico, K -12, graduating in 1992 and obtained a BS in Civil Engineering from Rensselaer Polytechnic Institute (RPI), Troy, NY in 1996.  Immediately after graduation he started working full-time for the Family Business. Jorge is a fourth-generation professional engineer and the third generation that leads the family companies including Gabriel Fuentes Jr. Const. Co., Inc., a deep foundation and marine specialty contracting company and Fuentes Concrete Pile Co., Inc., a precast concrete pile manufacturer. He married Michelle Mendez in 1998 and they have two daughters: Patricia, born in 2000 and Paola, born in 2002. Jorge has also had the following leadership positions: President AGC of Puerto Rico 2004, Wild Card for AGC of America Board of Directors 2005 & 2007, Chair of the Specialty Contractors Council of AGC of America and Member of the Board of Directors of AGC 2011-2013, Life Governor AGC of America 2016, Chapter Chair YPO Puerto Rico 2014, Saint John's School Trustee since 2009 and Chair of the Board of Trustees since 2017.
Management Committee
The AGC Management Committee manages the day-to-day affairs of the Association and has the authority to transact the affairs of the Board of Directors between its meetings. The Management Committee is composed of four AGC Officers who are elected annually and take their seats at the AGC Convention in March each year.
Executive Staff
STEPHEN E. SANDHERR
Chief Executive Officer - Associated General Contractors of America
Stephen Sandherr joined the AGC of America staff in 1984 as Assistant Director of Collective Bargaining Services. From 1986 to 1989 he served as AGC's Director of Congressional Relations. He practiced law with the firm of Thompson, Mann and Hutson in Washington, DC., from 1989 to 1990, and served as Labor and Small Business Counsel for the National Association of Home Builders from 1990 to 1991. He rejoined AGC as Executive Director of Congressional Relations in 1991 and was promoted to Chief Executive Officer in 1997.
Currently, as Chief Executive Officer, Steve's role is to maintain relations with AGC's national network of chapters, coordinate government relations activities and enhance AGC's involvement with business coalitions. CEO Update, which tracks people in association and non-profit executive careers, listed Steve as a top CEO in 2009, and a Capitol Hill newspaper, The Hill, listed Steve as a top lobbyist for the last eight years, representing the only commercial construction industry association on the Top Lobbyists of 2009 - 2016 lists.
Steve is a 1980 graduate of the University of Scranton with a B.S. in Political Science. He earned his law degree from the Catholic University of America in 1983, and is a member of the Bar of the District of Columbia. He is a trustee of the National Building Museum in Washington.
He resides with his wife, Cynthia, in Alexandria, Virginia.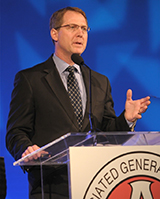 JEFFREY D. SHOAF
Chief Operating Officer
Jeff Shoaf is Chief Operating Officer the Associated General Contractors of America. He was named COO January 1, 2018.
Prior to taking the post as COO, Jeff worked in AGC's government relations department where he oversaw that department for more than 20 years.
He worked on Capitol Hill prior to joining AGC where he served on the staff of the House Transportation Committee for Congressman Bud Shuster of Pennsylvania for nearly 8 years.
Jeff lives in Virgina with his wife and three daughters.