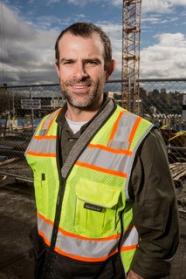 Meet Jeff!
Jeff Christianson is a graduate of Washington State University with a BS in Constriction Management and holds a MS in Civil Engineering degree from University of Maryland. He joined Exxel Pacific, Inc. in 2003 and is currently the Senior Superintendent of Field Operations overseeing multiple projects in the greater Seattle area.
Jeff is a LEED AP BD+C and a Certified Professional Constructor (CPC). He has served as the Chairman of the AGC of America CLC Steering Committee and is currently a committee member on the AGC Lean Committee and a board member on the AGC Education Foundation. Locally, Jeff serves as a board member on the AGC of Washington and the AGC of Washington Education Foundation. Additionally, Jeff was named the 2019 AGC of Washington Superintendent of the Year and was recognized by Engineering News-Record (ENR) as one of the Northwest's 2019 Top Young Professionals. Jeff lives in Seattle with his wife and 3 children.
Why did you choose to get involved with AGC's Lean Construction Committee and the Construction Leadership Committee?
I joined the Lean Committee to further my knowledge in Lean practices and help develop resources for contractors that are just starting their Lean journey. I wanted to participate in CLC to give back and contribute to the industry beyond my company and our local footprint.
What benefits have you experienced being involved at both the national and chapter level with AGC?
Being involved the AGC has been very gratifying. In addition to learning and collaborating with professionals from all over the country, I also get personal fulfillment from giving back to our industry and students that are interested in entering our industry.
What can construction professionals like you gain by engaging with AGC?
I think being involved in the AGC gives you a different perspective on how things are done by others (varies geographically, sector, size, etc). The learning opportunities are immense both through what is offered through AGC Edge, but also through education sessions at in-person events.
What's your favorite in-person AGC event and why?
I really enjoyed the Dallas Convention, I thought the theme was a lot of fun, especially with the Celebrate Construction Party. I also enjoyed the LDC in Philadelphia, Chicago, and Alabama and think the cities and locations were a lot of fun.