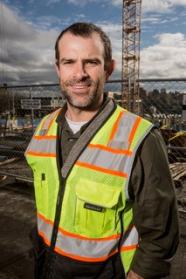 Jeff Christianson is a graduate of Washington State University with a BS in Construction Management and holds a MS in Civil Engineering degree from University of Maryland. He joined Exxel Pacific, Inc. in 2003 and is currently a Senior Superintendent overseeing multiple projects in the greater Seattle area. Jeff is a LEED AP BD+C, a Certified Professional Constructor (CPC), and a PHIUS Certified Builder. He has served on the AGC of Washington CLC Steering Committee and is currently the incoming Vice-Chair of the AGC of America CLC. Additionally, Jeff was named the 2019 AGC of Washington Superintendent of the Year and was recognized by Engineering News-Record (ENR) as one of the Northwest's 2019 Top Young Professionals. Jeff lives in Seattle with his wife and 3 children.
Why did you get involved with AGC of America?
I got involved in the AGC of America because I wanted to expand my exposure beyond the geographical area that I work in. I have been involved with the AGC of Washington for several years including the Construction Leadership Council (CLC) and felt AGC of America involvement would create opportunities for personal development that would make me a better contributing employee.
What benefits have you experienced being involved with AGC of America?
Getting involved with AGC of America has been an enriching experience so far that has benefited me both individually but my company as well. I have met a lot of people throughout the country that have really made the meetings and conventions fun. I experience personal fulfillment by being engaged in committees and work groups that work together to create opportunities to make our industry stronger. On a micro level, I continuously pickup great ideas to take back to my company for continuous improvement including technological and process innovations, LEAN tools, inclusion, and recruitment (just to name a few).
What can others gain by engaging with AGC of America?
I think getting engaged with the AGC of America can enhance ones understanding of our industry and the similar challenges we all deal with. Working with individuals from different backgrounds, cultures, and geographies creates opportunities to look at situations we all deal with through a different lens. The AGC of America does an outstanding job of strengthening and creating opportunities for our industry; and through engagement, volunteers can influence and impact these efforts.
What project are you currently working on that you are most excited about?
One unique project that I am involved in right now is the New Upper School Building at Bush School. The New Upper School Building will be the first "Salmon Safe" school, the first "Passive House" school on the West Coast, and one of the first "Net Zero Energy" schools in the nation. It is utilizing mass plywood decking which installs quickly while providing an aesthetically appealing fire resistance finished product.