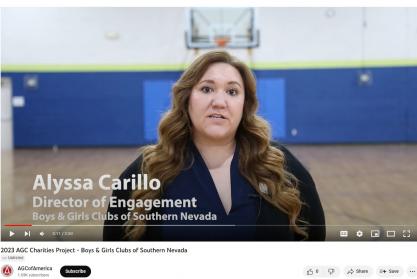 AGC Charities, Inc. and the local Construction Leadership Council are Organizing a Volunteer Day to Help the Boys & Girls Clubs of Southern Nevada on Sunday, March 12th at 8:30 am to 3 pm
AGC Charities and the local Construction Leadership Council will be hosting a volunteer day event at a local Boys & Girls Club of Southern Nevada facility which serves the youth that walk through the doors each day – more than 85 young people. The local facility, Donald W. Reynolds Club, features a games room, learning zone, computer lab, art room, gym with three full basketball courts, teen center, Notes for Notes Studio and outdoor area with a garden. Our volunteer efforts will be mainly focused on painting the facility's gym, which is roughly about 100 by 200 feet and the ceilings are about 35 to 40 feet tall. Click here to view a short video about the project.
If you are unable to attend but would like to contribute, please consider making a donation online. For more information, or to sign up directly with AGC Charities for the project, contact Brian Turmail at brian.turmail@agc.org or (703) 459-0238.