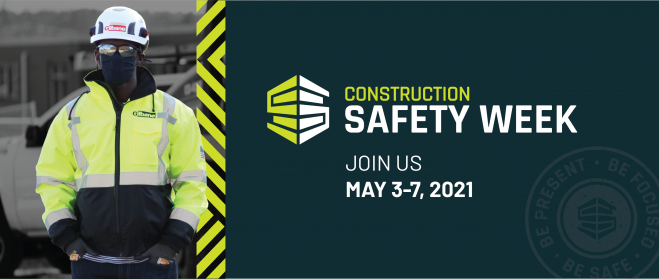 Please join with AGC of America in planning to participate in this year's Construction Safety Week, May 3-7. The theme is Holistic Safety: Be Present. Be Focused. Be Safe. Our commitment to staying safe and focused on the job is a point of pride and strength that runs across our entire industry. In order to ensure holistic safety, we must strive to create both a physically and mentally safe environment and make every aspect of our wellbeing part of our safety culture and programs. We must prioritize both physical and psychological safety in the workplace, and how together, they play an important role in our relationships with our team members and with our ability to bring our safest, most productive, best selves to work every day.
We encourage member firms to get involved in and celebrate our shared commitment to safety. Click HERE to access and download all of the tools and resources to get started on planning your activities, including tips, best practices and all of the Safety Week branded materials you'll need to support your events and communication. In addition, let us know if you are planning to participate by completing a brief survey HERE.
You can also access AGC's events and resources for safety week HERE. For more information or to find out how you can get involved in the 2021 Construction Safety Week, please contact AGC of America's Senior Director of Safety & Health Services, Kevin Cannon, at kevin.cannon@agc.org or 703-837-5410.