According to the latest Contractor Compensation Quarterly (CCQ) published by PAS, Inc., contractors are projecting 2020 construction staff wages to increase an average of 3.55% (excludes 0% projections), reported by over 300 companies in the 38th edition of the Construction / Construction Management Staff Salary Survey. For pay increase comparison, according to the WorldatWork, across all industries exempt professionals saw 2019 increases of 3.2% and they are projecting 2020 increases of 3.3%. For construction they reported a 3.9% increase in 2019 and are projecting 3.3% for 2020.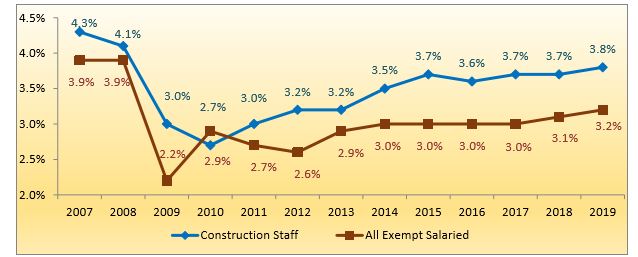 The 2020 Construction / Construction Management Staff Salary Survey was published just as shelter in place orders were taking effect. The above 2020 projections were as of February / March 2020, before the pandemic hit the United States hard. Since then PAS has observed that some of their clients:
Continued to provide pay increases – business as usual;
Provided annual increases, only because they had a substantial backlog of work;
Postponed their scheduled increases, thinking they will wait until the crisis is over;
Decided to freeze pay for all their professional and management staff for the year;
Cut pay for either the entire staff, or just for executives, or just for a select employee group; and
Provided pay increases just for key job families or key people.
When the virus hit, quite a few contractors were already in catch up mode in order to remain market competitive. Readers are advised that compensation programs need to be flexible now, but when construction rebounds and the need for experienced people grows, expect competitive pay practices to come roaring back.
PAS offers AGC members a special AGC discount to access PAS products. For more information, contact PAS by phone at (800) 553-4655 or www.pas1.com. You can also find more information here.
Jeff Robinson, president of PAS, Inc., is a regular sponsor and presenter at AGC's Construction HR and Training Professionals Conference.