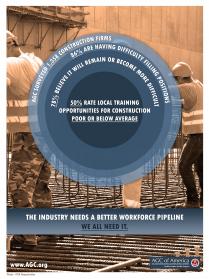 An overwhelming majority of construction firms report trouble finding qualified craft workers to fill key spots as demand for construction continues to rebound in many parts of the country, according to the results of an industry-wide survey of 1,358 construction firms released today by the Associated General Contractors of America. Association officials called for new career and technical school programs, as well as other workforce measures to offset the labor shortages that are forcing firms to change how they operate and pose risks to workplace safety.
"Few firms across the country have been immune from growing labor shortages in the construction industry," said Stephen Sandherr, chief executive officer for the Associated General Contractors. "The sad fact is too few students are being exposed to construction careers or provided with the basic skills needed to prepare for such a career path."
Read full press release here. Listen to the audio recording of the call.
Materials:
Regional Results and Analysis:
State-specific Results and Analysis:
You can also read Preparing the Next Generation of Skilled Construction Workers: A Workforce Development Plan for the 21st Century – the policy plan created by AGC of America to address growing worker shortages.