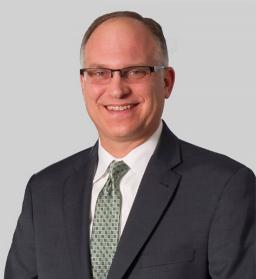 This series will feature the construction law attorneys who volunteer to research the state laws that impact construction for the AGC/ABA State Law Matrix. This article focuses on Neale Johnson, who served as the first managing editor for this collaborative effort between AGC and the ABA Forum on Construction Law. Neal is the Co-Chair of the Litigation Department at Fox Rothschild LLP and he can be reached at (336) 378-5319 or NTJohnson@foxrothschild.com.
Tell me a little something about yourself professionally?
When I started practicing law after passing the bar exam in 1998, I quickly gravitated to construction law because construction people reminded me of people I enjoyed working with during military service in the Marine Corps before law school. For more than 25 years, I've helped construction companies and owners think through projects before they commit, write better contracts, make better decisions during projects, and—when necessary—resolve disputes with the help of a court or arbitrator. As time has passed, I have earned recognition in the field of construction law, including a Chambers Band 1 ranking for construction law in my home state of North Carolina. For many years, I have also served the industry as a superior court certified mediator and as a AAA arbitrator and mediator on both the construction and commercial panels. The experience as a neutral has been particularly valuable; it has provided insight into how those who decide industry dispute view the witnesses, evidence and counsel and how to resolve cases creatively before formal dispute resolution. In recent years, I have also had the opportunity to help the industry in North Carolina by drafting legislatively introduced by the Carolinas chapter of the AGC. The North Carolina General Assembly has enacted several of these bills into law, and they are making a difference in the industry every day.
Why did you volunteer researching the AGC/ABA state law matrix?
The opportunity to learn. I am licensed in North Carolina, but my clients are building all over the U.S. Editing and researching the matrix improved my grasp of construction law states outside of my home state of North Carolina.
Why do you think it is a good tool and who do you think should be using it?
The Matrix is a great starting point for anyone working on a project in a new or unfamiliar jurisdiction. It provides a quick summary of the local law in tabular form. One of the changes to the matrix in recent years is that each state's table is prepared by a knowledgeable lawyer who practices construction law in that specific state. As a result, I have confidence that the author is knowledgeable and that the table is accurate and current. I use Matrix when I need to determine quickly what needs to change in a contract to take into account the particular legal risks and opportunities in another state.
In doing the research, do remember something you found particularly interesting or helpful in the research?
The degree to which each state has its own unique practices and laws was a surprise. I understood that the law in different states varied, but underestimated just how different law and practice could be from one jurisdiction to the next. The Matrix provides a quick way to access the knowledge of a local professional and its organization facilitates comparisons across jurisdictions.