The Associated General Contractors of America (AGC) proudly offers Lean Construction Education Program (LCEP) Courses virtually with a series of three-hour sessions on Tuesdays and Thursdays beginning March 24th and running through May 19th, sessions held from noon to 3 pm EDT via Zoom. 

All students who complete the series are eligible to take the CM-Lean Exam and earn your Certificate of Management - Lean Construction

About AGC's Lean Construction Education Program

Lean Construction is driven to minimize costs and maximize value on each project completed, challenging all stakeholders to develop and apply better ways to manage the overall construction process. 

To develop the tools needed to build lean, AGC has developed the Lean Construction Education Program. Construction professionals at all experience levels will learn the building blocks necessary to transform their projects and companies into a lean operating system.

AGC's Lean Construction Education Program is a series of courses that progressively cover a range of topics essential to Lean Construction, including:

⦁    Variation and pull in production
⦁    Lean Workstructuring, supply chains, and assembly
⦁    Production management
⦁    Management by values
⦁    Problem-solving principles and tools

This program is offered by AGC of America beginning on Tuesday March 29, 2022. 
Courses will be offered online via Zoom platform, webcam required for participation. (Fee includes course materials) 

Schedule of Classes (all classes 12:00 pm to 3:00 pm Eastern Daylight Time)  
Technology Check
  ⦁ Thursday, March 24th (12:00 to 1:00 pm Eastern Daylight Time)
Unit 1– Variation in Production Systems & Unit 2 Pull in Production 
   ⦁ Tuesday, March 29th 
   ⦁ Thursday, March 31st
   ⦁ Tuesday, April 5th 

Unit 3– Lean Workstructuring &Unit 4 The Last Planner® System 
   ⦁ Thursday, April 7th
   ⦁ Tuesday, April 12th
   ⦁ Thursday, April 14th

Unit 5 – Lean Supply Chain and Assembly 
   ⦁ Tuesday, April 26th
   ⦁ Thursday, April 28th

Unit 6 – Lean Design and Pre-construction 
   ⦁ Tuesday, May 3rd 
   ⦁ Thursday, May 5th
Unit 7 – Problem-solving Principles and Tools 
   ⦁ Tuesday, May 10th
   ⦁ Thursday, May 12th
EXAM PREP 5/17 – (OPTIONAL – APPROX 2 HRS OF VIRTUAL INSTRUCTION)
   ⦁ Tuesday, May 17th *** (Noon – 2pm EDT)***
Cost for the program is $2,450.00 for members and $3,425.00 for non-members. Includes all course participant's materials.
Cancellation Policy: A full refund will be given to cancellations made 14 calendar days prior to the class kick off. After such time, no refunds will be given. Replacements are acceptable and must be submitted via email to rockkie.dunton@agc.org.

AGC reserves the right to cancel programs up to 10 days prior to start date if a minimum number of attendees is not met.
Questions: Email - education@agc.org.
Course Instructor:

Colin Milberg Ph.D.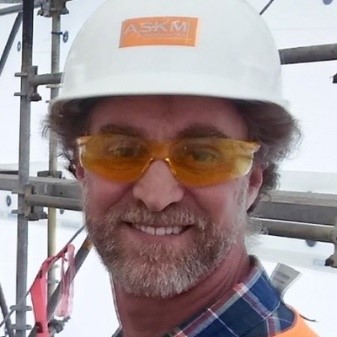 In addition to providing Lean consulting for over 10 years on over 100 projects, Colin Milberg, principal at ASKM and Associates, is the instructor for the CM-Lean series for AGC MA, CT, and NY which also services AGC members in VT, NH, ME and RI. Colin has also taught all or part of the AGC CM-Lean curriculum internally at several different construction industry firms with more currently scheduled. Colin has been a member the steering committee for the AGC Lean Forum. Colin is responsible for initiating the offering of the AGC CM-Lean curriculum into the Lean Construction Institutes (LCI) annual congress training days. 

Colin has been teaching the AGC courses since their inception, served as lead subject matter expert on the committee responsible for the development and validation of the CM-Lean credential exam, helped review and develop the narrative for the CM-Lean Exam Prep Course and has hosted instructor webinars for the AGC of America.

Colin has worked with a variety of public and private organizations on large-scale infrastructure projects, assisting project teams in implementation of Lean Construction and Enterprise practices, creating Pull Planning and Superintendent Standard Work, developing internal capacity for facilitating Lean Construction practices, and integrating Lean Construction with Lean Enterprise techniques to support Lean practices across a combined trade contractor, manufacturer, designer and supplier organization.  Colin's areas of expertise include Construction Management, Lean Construction, Design Management, Integrated Project Delivery, Building Information Modeling, 3-D Laser Scanning, and Tolerance Management in Civil Systems. 

Colin has a Ph.D. from U.C. Berkeley where he worked with the founders of the Lean Construction Institute (LCI). Colin co-founded LCI San Diego and LCI Southern New England, was a member of the advisory board for the International Group for Lean Construction, sat on the core group of LCI San Diego, New England and currently Southern New England, and is an instructor for the AGC Lean Construction Education Program. In addition to four years experience as an assistant professor in construction engineering at San Diego State University, 

Colin has over twenty-five years of construction management experience, including a variety of infrastructure projects ranging from $2 million to $1 billion, including hospitals, schools, bridges, tunnels and prisons. Utilizing his experience in teaching, training, facilitation, and leading Lean events from the strategic down to the operations level, Colin has helped individual organizations and cross-organizational project teams build internal capacity for delivering Lean projects with increased value and reduced waste.