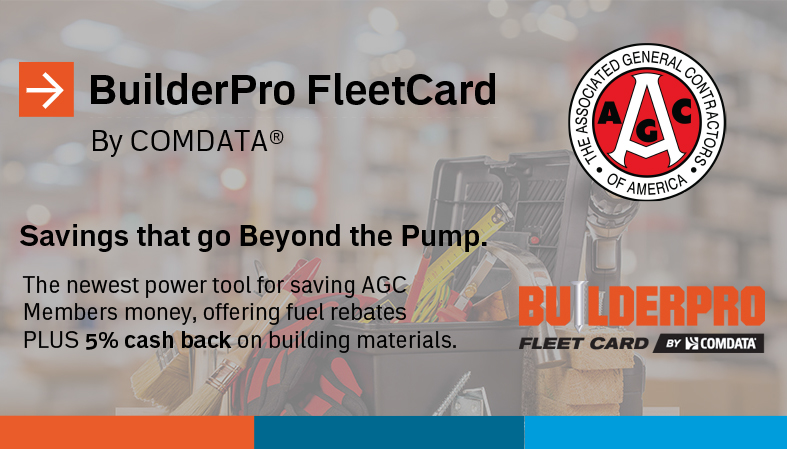 NEW FOR AGC MEMBERS: 
INTRODUCING THE BUILDERPRO CARD BY COMDATA
As a busy AGC Contractor, you should never be forced to choose between employee purchase control and convenience when it comes to buying materials for your business. The BuilderPro Card by Comdata is a complete purchasing solution that allows your employees to buy only the things they need to get the job done: materials, fuel and maintenance. It delivers purchase control, savings, and convenience in managing your business' biggest expenses.
Earn 5% cash rebate on purchases made at Big Box home improvement retailers such as Home Depot and Lowe's**:
•Save on the purchases you're already making for your business, at even more locations
•Use the card at hardware, home improvement and building supply retailers nationwide.
Save up to 6¢ per gallon on fuel everyday:
•Save an average of 2-3¢ per gallon at over 21,000 locations in our exclusive Retail Savings Network.
•Save up to an additional 3¢ per gallon through volume rebates every day.
Get exclusive discounts on vehicle maintenance:
•Save 5% on purchases at Firestone and Tires Plus retail locations.***
Take control of expenses:
•Monitor employee transactions in real time and customize controls to restrict what, when and where your employees can purchase materials or fuel.
•Purchase everything you need- materials, fuel, and maintenance- with none of the unwanted extras.
Goes where you go:
BuilderPro is a single card that's accepted for all of the purchases you need to get the job done:
•Use the card for all of your material purchasing needs, at over 12,000 locations nationwide.
•Plus, fuel up anywhere  and make maintenance purchases nationwide.

Questions? 
Speak with a Senior BuilderPro Consultant Today: (678)-350-9207
* Earn up to 3¢ per gallon in volume rebates, an average of 2-3¢ within the Retail Savings Network. Purchases must be made with the BuilderPro Comdata Universal FleetCard MasterCard® and the account must be in good standing. Not valid on aviation, bulk fuel, propane or natural gas purchases. Volume rebates are based on the number of gallons purchased monthly and will be calculated on the gallons pumped at Level 3 sites. Unleaded and diesel grade fuels are included. The Retail Savings Network is a selected group of fuel locations that allow cardholders additional savings.
** Earn 5% rebate each month on all eligible purchases made at select large big box home improvement retailers, including Home Depot, Lowe's, Menards, and HD Supply. Supply rebate is subject to change or forfeiture without notice. 5% cash back applies to first $24,000 in annual spend, calculated evenly in monthly increments. Rebate credited to account statement monthly in arrears. Rebates are subject to forfeiture for inactivity or if account is not in good standing. Qualifying purchases do not include purchases or reloading of pre-paid cards, or purchases of other cash equivalents. Purchases made at warehouse clubs, supercenters or department stores are not permitted.
*** 5% rebate on purchases at Firestone and Tires Plus Retail Locations is available through the MasterCard Easy Savings Network. Discount will be applied after the time of transaction. The Easy Savings Network is a MasterCard-funded program that is subject to change without prior notice.
Terms and conditions apply. The BuilderPro Comdata Universal FleetCard MasterCard is issued by Regions Bank, pursuant to a license by MasterCard International Incorporated. MasterCard and the MasterCard Brand Mark are registered trademarks of MasterCard International Incorporated.