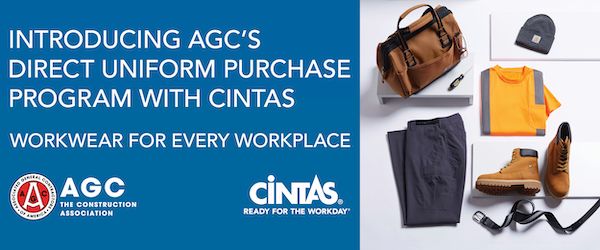 Cintas: Uniforms, Direct Apparel Purchase, Facility Services, and First Aid & Safety
AGC of America now offers exclusive savings with Cintas to enhance your company's image and safety with the highest quality work apparel and facility products.
Whether it's helping to alleviate heat stress with superior ventilation and mesh technology, helping to protect workers with flame resistant and arc-rated apparel, or simply providing professional shirts and pants that show people you are a leading builder in the industry, Cintas has the uniform solutions builders need at exclusive AGC member pricing.
AGC Members Receive Discounts on:

Uniform Rentals
Your team's image is a reflection of your business, and there's nothing like having them report to work in a clean, professional-looking uniform. Every week, you'll simply turn in your uniforms that are ready for laundering — and we'll take care of all your cleaning, repairs and maintenance.
Classic Workwear
High Image Apparel
Exclusive Carhartt® Rental Workwear
Apparel tailored just for women
Uniform Leasing
Uniform Direct Sale
Delivery Uniforms
Medical Clothing, Scrubs
Food Processing/Restaurant Uniforms
Apparel Purchase - AGC Direct Purchase Program
By blending ready-to-wear catalog options with selections from major apparel brand partners, we can customize an apparel program exclusive to you and deliver it through a personalized online shopping experience! Stock up on any gear your team may need.
Major Retail Brands Available at Discounted Prices – Nike, Under Armour, Carhartt, Levis, Timberland, Justin, Wolverine and More!
Apparel and Accessories – polos, shirts, outerwear, pants, hats and boots
Promo Products – cups, pens, bookbags, coolers and more!
Click here to learn how to register | Click here for the brochure | Click to start ordering
Facility Services
Cintas Facility Services offers a variety of solutions to help your image, protect your business, and save you money.
• Lockers & Equipment
• Restroom Supplies
• Microfiber Cleaning Cloths
• Mat Services
• Mop Services
• Work Towels
• First Aid Supplies
First Aid & Safety
Managing first aid and safety supplies is critical but it can also be time-consuming; however, preparing for minor injuries and managing safety supply inventory doesn't have to be a major headache. Cintas provides the service you need to be sure products you've selected are always stocked.
First Aid Supplies
Safety Supplies
AED Products and Services
Training and Compliance Courses
Additional benefits include:
Free Site Assessment, Cost Comparison, and Set Up of New Customers
Receive preferred National Account Pricing advantages*
Tru-Count Inventory Accountability System
24/7 Customer Support
Flame Resistant and High Visibility Options Available
Cintas COVID-19 Solutions:
As many states are planning to ease restrictions,
Cintas Ultraclean sanitization
process may be the solution to prepare for re-opening. Cintas can coordinate with each of your closed locations to go in to sanitize and disinfect the restrooms and kitchens to prep for Opening Day. To support you further Cintas will set up a maintenance service frequency to ensure your sites are maintaining the "new normal" hygiene expectations from your customers and employees.
For Bulk orders of Hand Sanitizer, Face Shields, Contactless Thermometers and/or KN95 Masks:

*Pricing advantage applicable to new customers only; Current customers may be eligible upon renewal extension of current contract term.