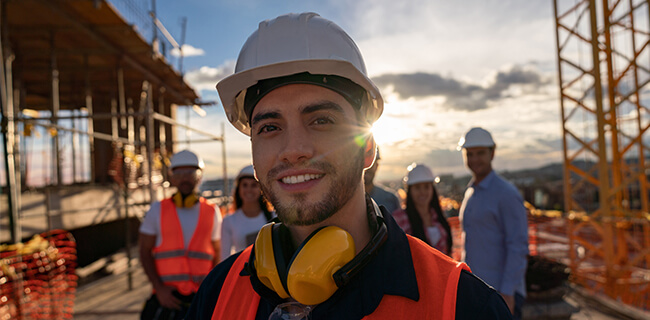 Leadership is The Key to Success
Few industries rely on effective leadership for success more than the construction industry. With the overwhelming number of activities on any given jobsite, it takes astute leadership to pull them all together. Without it, project safety, profitability and company reputation are at risk. Attending AGC of America's Leadership in Construction Workshop will help you enhance your individual skills as a leader and teach you how to become the most effective leader possible. This popular workshop focuses on the Dynamics of Leadership, in which participants:
Identify key leadership concepts.
Explore the difference between leadership and management.
Analyze intrinsic and extrinsic factors in motivation.
Develop strategies for dealing with members of a project team.
Analyze an effective model for conflict resolution.
About the Program
At AGC's Leadership in Construction Workshop, participants discover their personal leadership style and how to communicate and work with people who have different approaches. This is accomplished through various team activities and a series of personal assessments, including a 360 survey to identify how their manager, direct reports and peers interpret their performance. Participants leave with a detailed, practical action plan for implementing the new communication strategies. 
Overall Learning Objectives
Participants will be able to:
Identify their personal leadership style through a series of personal assessments, including a CheckPoint 360 Evaluation and the Thomas Kilman Conflict Mode Instrument.
Examine the principles of leadership and discuss strategies for implementation with coworkers in the field or office.
Compare the difference between management and leadership and learn to distinguish qualities of each.
Examine and demonstrate an effective model for conflict resolution.
Participate in various group activities and assessments to reinforce concepts in preservations and discussions.
Who Should Attend
Attendance is open to all individuals in the construction industry who direct or influence other personnel to meet project goals. Examples of job-specific areas and titles include:
Senior Management Team Members
Project Engineers
Project Managers
Estimators
Area/Branch Managers
Superintendents/Front Line Supervisors
Operations Managers
Safety Directors
This workshop is designed for a small number of participants; registration space is limited so please apply early. More information and online registration is available here.
Addition Information
Course Agenda
Course Modules
Continuing Education Credits
Upcoming Course
Leadership In Construction Workshop
October 2 – 4, 2019
Arlington, VA
Register Now
Registration Fees
(includes training materials, breakfast and lunch)
 
Member Rate
Non-Member Rate
Early Bird (Ends 8/2/2019)
$2095
$2395
Standard
$2495 
$2895
Training Location
The Navy League Building
2300 Wilson Boulevard
Arlington, VA 22201
Faculty
Thomas J. Burleson
President
Burleson Construction Company, Inc.
Johnson City, TN
View bio

Charles W. Cook, Ph.D.
President
R. S. Cook and Associates, Inc.
Westtown, PA
View bio
Hotel Accommodations
Hyatt Place Arlington/Courthouse Plaza
2401 Wilson Boulevard
Arlington, VA 22201
(703) 243-2494
www.hyatt.com
(1 minute walk)

Residence Inn Marriott
1401 North Adams Street
Arlington, VA 22201
Phone: (703) 312-2100
www.marriott.com
(1 minute walk)

 

Hilton Garden Inn
1333 North Courthouse Road
Arlington, VA 22201
Phone: (703) 528-4444
www.hiltongardeninn.com
(7 minute walk)

Arlington Court Suites Hotel
1200 North Courthouse Road
Arlington, VA 22201
Phone: (703) 524-4000
www.arlingtoncourthotel.com
(8 minute walk)
Cancellation Policy
Cancellation or transfer of registration will be accepted with no penalty until thirty (30) days prior to the start of a program. A transfer fee of $150.00 will be applied to any transfers after 5:00 p.m. (ET), thirty (30) days prior to the start of the program. No refunds will be given after 5:00 p.m. (ET), thirty (30) days prior to the start of a program. All cancellations, as well as requests to change class dates or programs, must be submitted in writing to the AGC of America Convention and Meeting Services Department at meetings@agc.org by the individual whose name appears on the registration (i.e. the program attendee). Cancellations by phone or in writing by any party other than the program attendee will not be accepted. Registrants may only transfer their registration one time. This cancellation policy is subject to change.