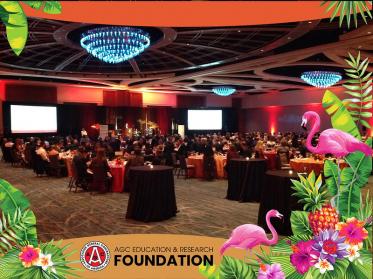 The 2021 CCC Gala, with a theme of "Hot Havana Nights" started with a goal of raising $100,000 for student education in the Construction industry. Within two hours the group met that goal and exceeded it times four including generous donations of $250,000 by Procore's HBCU challenge fund, a $62,500 donation and new scholarship fund established with AGC Georgia, and a $25,000 HBCU fund donation by Bob Bowen.
The night featured a cigar bar, a live band, dancing, and the gathering of close friends and Foundation supporters who were happy to just be back together again. Photos of the merriment can be found here.
On behalf of the CCC and AGC Education and Research Foundation, thank you to all the supporters who attended this years event and especially to our event sponors:
Alliant Insurance Services, Inc.
Procore Technologies
HCSS
ConstructConnect
Josam Company/Wilson
William Bros. Construction
Enterprise Fleet Services
Sundt
Smith Currie & Hancock LLP
AGC of Texas
Gilbane Building Company
ACIG American Contractors Insurance Group
Milwaukee Tool
Louisiana AGC, Inc.
AGC of Missouri
AGC Oregon
Guido Construction
Cokinos Law
Kokosing Construction Company, Inc.
CCC members and gala attendees should save the date and grab your Cowboy hats for the 2022 event which will be hosted on the evening of March 28 in Grapevine, TX with a "Rhinestone Cowboy" theme.