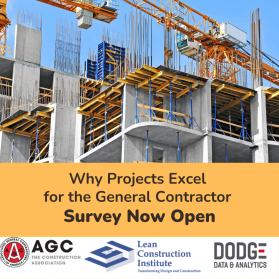 Over the last year, the AGC Lean Construction Forum has been working with Dodge Data & Analytics (Dodge) and the Lean Construction Institute (LCI) to determine, across the experiences of many construction firms, the specific project practices, policies and tactics that most frequently correlate to better project outcomes and greater professional satisfaction.
This leg of research will be a compliment to two other studies completed by LCI and Dodge  including an Owner outcome study called "Why do Projects Excel? The Business Case for Lean Project Delivery"  and a Designer a study called "Why Projects Excel-Great Design Enabled by Lean".
Participants need to be familiar with project outcomes (budget compliance, schedule compliance, profitability, safety record etc.) and contracting methods, as well as the processes in which the project team engaged. Vertical, horizontal, specialty and utility projects are eligible for inclusion in the survey.
All participants completing the survey will be eligible to receive a copy of the findings of this study and a copy of the Lean Deployment Guide.
To take the survey, click here.
Warning:
Attention Article Writers! Look Below For Instructions!