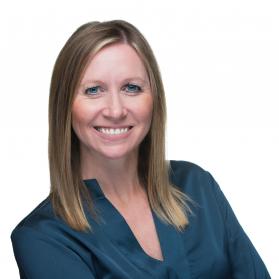 As the director of marketing and social media for Small Giants, Kimberly Werner has worked in the design and construction industry since 2003, joined Small Giants in 2009 and moved to Colorado in 2015 to lead the expansion of Small Giants in the Denver market. In addition to her day-to-day responsibilities of proposal  development, websites and social media, she focuses on Denver's business development to showcase Small Giants as an industry marketing expert. In addition to being an active member of the AGC America Business Development Forum Steering Committee, Kimberly serves as the Denver Chapter President of the BD Guild, Communications Chair of the CoreNet Global Colorado Chapter, and the Communications Chair and Advisory Board for A Precious Child.
Why did you join the AGC BD Forum?
I really wanted to grow my network nationally and the best way to do that is to get involved. I really enjoy participating in associations to give back to our industry while continuing to grow and gain knowledge from other members.
What benefits do you see from being a member of the AGC BD Forum?
As a member of the AGC BD Forum, you become a part of the dynamic changes that are transforming the industry, by helping to shape the future of business development in construction. The BD Forum provides the tools and resources to help enrich your knowledge with life-long learning resources.
What can others gain from the BD Forum?
Through active participation, you will be able to contribute to the growth and future success of the organization and help you uncover business development insights to utilize in your professional and personal development.
Warning:
Attention Article Writers! Look Below For Instructions!