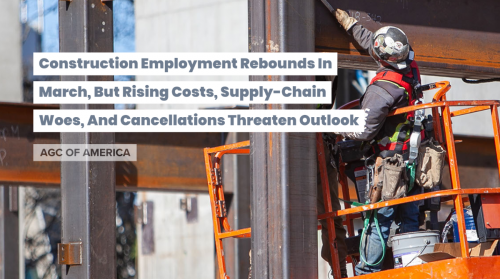 Association Officials Note that Continued Construction Job Gains Could be Impacted by New Infrastructure Funding Proposals, Rising Materials Prices, Erratic Delivery Schedules and Broader Market Uncertainty
Construction employment climbed by 110,000 in March as the industry recovered from severe winter weather that pushed employment down by 56,000 in February, according to an analysis by the Associated General Contractors of America of government data released today. Association officials said they were encouraged by the recent job gains and the potential for new infrastructure investments. But they cautioned that rising prices and erratic delivery schedules for key construction materials—as documented in their recent Construction Inflation Alert–and continued project cancellations could undermine the sector's recovery.
"The rebound in March is certainly good news, but contractors face growing challenges that imperil further growth in nonresidential employment," said Ken Simonson, the association's chief economist. "In fact, industry job gains in the first quarter of 2021 as a whole have slowed sharply from the second half of 2020."
Construction employment in March totaled 7,466,000, which was 182,000 employees or 2.4 percent below the most recent peak in February 2020. Over the past three months, the industry added 66,000 jobs, an average of 22,000 per month. In contrast, construction employment increased more than three times as fast from June to December last year, with an average gain of 76,000 jobs per month, the economist noted.