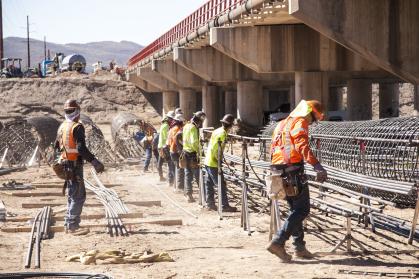 Houston-The Woodlands-Sugar Land and Lake Charles, La. Have Worst 12-Month Employment Losses; Sacramento--Roseville--Arden-Arcade, Calif. and Sierra Vista-Douglas, Ariz. Top Ranks of Job Gainers
Construction employment decreased from January 2020 to January 2021 in nearly two-thirds of the nation's metro areas, according to an analysis by the Associated General Contractors of America of government employment data released today, as project cancellations and a lack of new orders have forced firms to reduce their headcount, the association's latest contractor survey shows. Association officials said more layoffs are likely for the industry amid spiking materials prices and uncertain demand for new projects.
"More contractors are telling us they are cutting headcount than adding workers, which is consistent with the new data showing the industry is shrinking in many parts of the country," said Ken Simonson, the association's chief economist. "More than three-fourth of the firms said projects had been postponed or canceled, while only one out of five reported winning new work or an add-on to an existing project in the previous two months as a result of the pandemic. That imbalance makes further job losses likely in many metros."
Construction employment fell in 225, or 63 percent, of 358 metro areas between January 2020 and January 2021. Industry employment was stagnant in 41 additional metro areas, while only 92 metro areas—26 percent—added construction jobs.