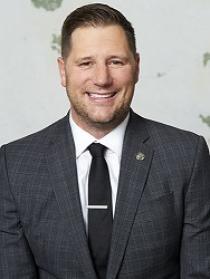 The Building Division by acclimation elected Michael Trettel as Chairman for the 2021-2022 term.  Michael began his career as a Project Engineer and Project Manager and transitioned to business development.  He is currently Director of Business Development for i+iconUSA (parent company of Joseph B. Fay Co. and i+iconSoutheast).
Michael currently serves on the Board of Directors of Special Olympics Pennsylvania and Chairs the Development Committee and is also a Board Member of the Penn State Alumni Association, Greater Pittsburgh Chapter.  For his efforts, Michael was recognized as a Pittsburgh "40 under 40" by Pittsburgh Magazine and PUMP in 2019.
Michael had been active for many years with the AGC of America and served in several leadership roles including Chair of the Business Development Forum, Vice Chair of the Building Division and is currently a member of AGC's of America's Board of Directors and Board of Governors.
Shannon Sapp, President, Merit Construction, Inc., in Knoxville, Tennessee was elected Vice Chair. Shannon's term of office will be for 2021-2022.  Robert (Bob) Majerus, Hensel Phelps, the former Chairman of the Building Division will be Immediate Past Chairman and Chairman of the Nominating Committee. 
Warning:
Attention Article Writers! Look Below For Instructions!