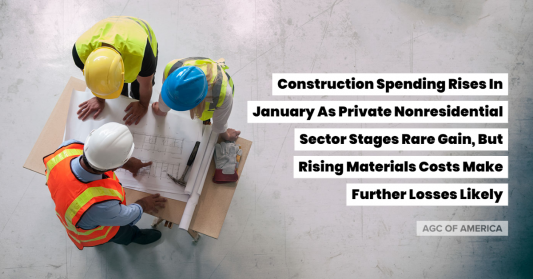 Private Nonresidential Market Shrinks 10 Percent Since January 2020 with Declines in All 11 Segments; Growing Cancellations, Proposed Labor Law Change Threaten to Harm Employers and Workers Alike
Construction spending rallied in January as private nonresidential construction increased for the first time in seven months, according to an analysis of new federal construction spending data by the Associated General Contractors of America. Association officials said that nonresidential construction spending remains below pre-pandemic levels and that rising materials prices and proposed labor law changes threaten the sector's recovery.
"Despite a modest upturn in January, spending on private nonresidential construction remained at the second-lowest level in more than three years and was 10 percent below the January 2020 spending rate," said Ken Simonson, the association's chief economist. "All 11 of the private nonresidential categories in the government report were down, compared to a year earlier."
Construction spending in January totaled $1.52 trillion at a seasonally adjusted annual rate, an increase of 1.7 percent from the pace in December and 5.8 percent higher than in January 2020. Residential construction jumped 2.5 percent for the month and 21 percent year-over-year. Meanwhile, combined private and public nonresidential spending climbed 0.9 percent from December but remained 5.0 percent below the year-ago level.
Private nonresidential construction spending rose 0.4 percent from December to January, although declines continued for the three largest components. The largest private nonresidential segment, power construction, fell 10.0 percent year-over-year and 0.8 percent from December to January. Among the other large private nonresidential project types, commercial construction—comprising retail, warehouse and farm structures—slumped 8.3 percent year-over-year and 1.8 percent for the month. Office construction decreased 4.4 percent year-over-year and 0.2 percent in January. Manufacturing construction tumbled 14.7 percent from a year earlier despite a 4.9 percent pickup in January.