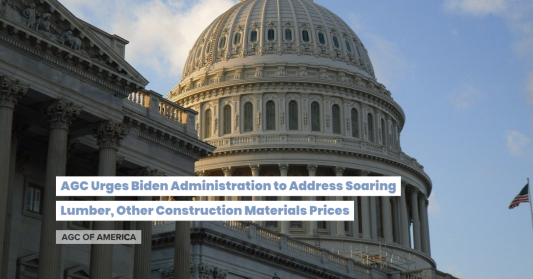 AGC called on President Biden to take immediate steps to address soaring lumber prices, as well as rising costs for other construction materials. AGC CEO Steve Sandherr warned that rapidly rising lumber prices pose a growing threat to multifamily housing and other construction sectors. He urged the administration to work with domestic lumber producers to ramp up production to ease growing shortages. He also called on the President to work with Canada on a new softwood lumber agreement and eliminate existing tariffs on wood products.
Sandherr also urged the administration to look for ways to facilitate shortening delivery times of lumber to end users. This could include easing cross-border truck and rail shipments, unloading at ports, hauling of logs and other raw materials to mills and engineered-wood producers, and shipping wood products to distributors and construction sites.
Click here for a copy of the AGC letter.