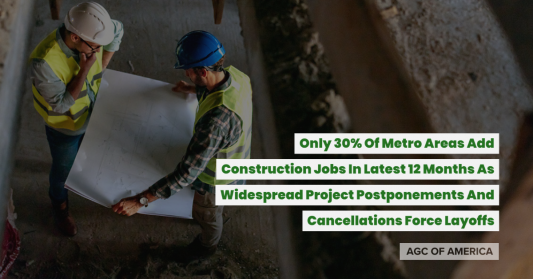 Houston-The Woodlands-Sugar Land and Brockton-Bridgewater-Easton, Mass. Have Worst 12-Month Losses, While Dallas-Plano-Irving, Texas and Walla Walla, Wash. Lead in Construction Job Increases
Only 30 percent of the nation's metro areas added construction jobs in the past year, according to an analysis of new government data that the Associated General Contractors of America released today. Association officials said construction employment in most parts of the country was being impacted by pandemic as businesses and local governments curtail planned construction projects.
"The pandemic has devastated the finances for businesses, institutions, and state and local governments, leading to widespread postponements and cancellations of construction projects," said Ken Simonson, the association's chief economist. "As contractors use up the funds from Paycheck Protection Program loans, even more job losses are inevitable unless the federal government provides an immediate economic boost."
Construction employment fell in 209, or 58 percent, of 358 metro areas between October 2019 and October 2020. Construction employment was stagnant in 40 other metro areas, meanwhile, and only 109 metro areas—30 percent—added construction jobs during the past year.