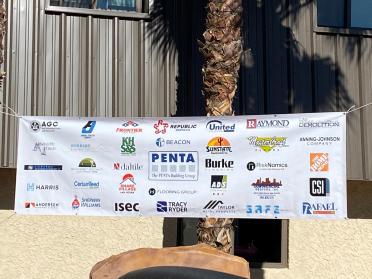 AGC Donated More Than $50,000 to Renovations While Penta Building Group Provided More Than $800,000 in Volunteer Construction Work and Materials
Part of AGC Charities' annual Operation Opening Doors project, local volunteer general contractors led by Penta Building Group renovated the Las Vegas Rescue Mission, the downtown homeless shelter. Before the remodeling, it had just one bathroom to serve 88 guests in the women and children portion of the facility.
The renovations were made possible by donations and voluntary construction work from Penta Building Group, a general contractor, and AGC Charities Inc., a national construction philanthropy organization. The two companies partnered to provide the means for the two new bathrooms, upgraded windows, roofing, doors, plumbing, lighting, a new security system, additional storage and replacement flooring at the women and children's facility. 
Brian Turmail, a spokesman for AGC Charities Inc., said the pandemic made organizations like the Las Vegas Rescue Mission all the more important for the community. It was a project AGC embraced, he said.
"While contractors have tough jobs, they've got soft hearts," Turmail said. "So many firms donated materials and work despite what is going on."