The AGC Labor and Employment Law Council (LELC) held its 33rd Annual Construction Labor Law Symposium May 12, 2017, in Washington, DC.  Attorneys and chapter labor relations managers from across the country gathered to learn about labor and employment law developments and their significance for construction employers.
The program featured presentations by LELC members on:
The constitutionality of local hiring preferences;
A primer on multiemployer collective bargaining in the construction industry;
The mandates of the new federal contractor paid sick leave rule;
Increasing criminal prosecution for labor law violations;
Multiemployer pension successor liability and how to prepare for audits; and
Bargaining to impasse over subcontracting clauses and related withdrawal liability issues.
Guest speakers included Barry Kearney, associate general counsel for the National Labor Relations Board's Division of Advice, and Jim Plunkett, senior government relations counsel for Ogletree Deakins. Ed Gilroy, director of workforce policy for the House Committee on Education and the Workforce, served as the keynote lunch speaker.  Each shared keen insight into the changes that have occurred and are anticipated in the new Administration and Congress.

Ed Gilroy, House Committee on Education and the Workforce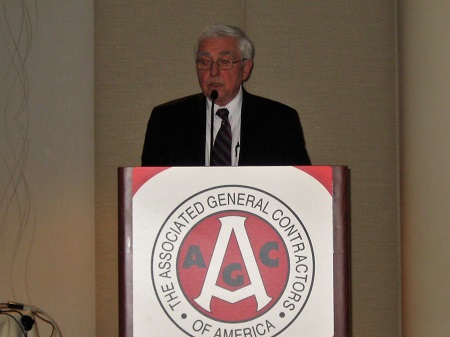 Barry Kearney, National Labor Relations Board

Handouts from the presentations are posted in the Labor & HR Topical Resources area of AGC's website.  AGC-member login is required to access the documents.  Once logged in, you can find the program handouts organized by topic category and subcategory.  Click here for more information on where to find each handout. 

The LELC is a private network of labor lawyers who represent AGC members and chapters.  It conducts the annual symposium and other activities to facilitate the sharing of information and the best possible representation of AGC affiliates.  To ensure that your in-house and outside labor and employment lawyers stay on the cutting edge, make sure that they are LELC members.  For a searchable directory of LELC members, click here.  For information about LELC membership, click here.

For more information, contact Denise Gold, associate general counsel, at goldd@agc.org or (703) 837-5326.