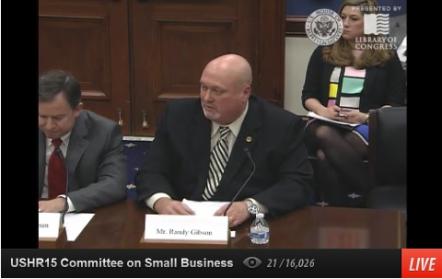 House Small Business Committee to Introduce Legislation Soon
Earlier today, Randall Gibson—AGC NAVFAC Committee chair and president of Whitesell-Green, a small general contractor based in Florida—testified on behalf of AGC before the House Small Business Committee on
a host of procurement reform issues
. In the
testimony
, AGC encouraged members of the committee and Congress to:
Prohibit all federal agencies from procuring construction services through reverse auctions;
Reform design-build contracting government-wide to reasonably limit one-step design-build solicitations and limit the teams allowed on the short list of the two-step design build process;
Encourage sensible consideration of past performance records in the joint venture and teaming context;
Prevent unintended consequences of misinterpretation of the nonmanufacturer rule; and
Help prevent individual surety fraud in the construction bond market.
Last year, AGC
successfully pushed Congress to enact
reverse auction restrictions and design build reform for Department of Defense agencies, i.e., the U.S. Army Corps of Engineers and the Naval Facilities Engineering Command. AGC worked with many members of Congress, including those on the House Small Business Committee, to help enact those reforms.  However, while a positive step forward, those reforms must be applied government-wide to civilian agencies like the Departments of Veterans Affairs, Interior and General Services Administration. The House Small Business Committee members will likely introduce legislation shortly that would support such government-wide reform. For more information, please contact Jimmy Christianson at christiansonj@agc.org or (703) 837-5325.