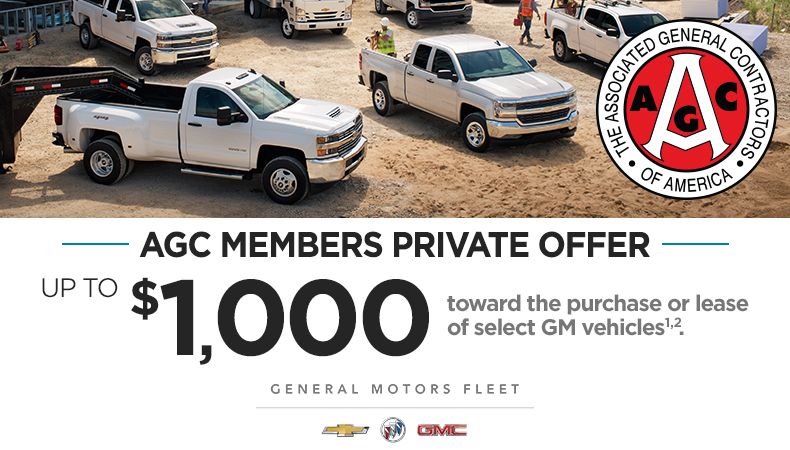 A VALUABLE OFFER FOR AGC MEMBERS
We know how hard you work, so we're going to help you lighten your load. AGC is pleased to provide Members and their employees with a private offer of up to $1,0001 off the purchase or lease of most new Chevrolet, Buick and GMC vehicles. Association members can combine this offer with most current incentives2, including the National Fleet Purchase Program and Business Choice Offers3 for an even better deal.                                                 
As a business owner, you could be eligible for up to a total of $510,000 in tax deductions when you purchase qualifying vehicles for your business before 12/31/2017.  Add your AGC Private Offer, Business Choice and other small business incentives to get an even bigger haul.                            
Redeeming this private offer is simple!
Provide proof of AGC membership: printing your membership information from the online AGC Membership Directory or call the local chapter to verify.

Visit your Chevrolet, Buick or GMC dealer and mention this private offer.

Choose an eligible vehicle or vehicles to purchase or lease and present your AGC Proof of Membership and employment verification.
No matter what profession you're in, you need specialized work vehicles, outstanding service and quality upfits to get the job done right.  Plus valuable offers to help you manage your budget.  GM has all the tools you need to make it all work seamlessly, and Business Elite dealers that are always available if you have questions. Click below to learn more:

Private Offer for AGC Members –​ 2018 Eligible Vehicles:
| | | |
| --- | --- | --- |
| Vehicle: | Retail: | Fleet: |
| Buick Enclave | $500 | $1,000 |
| Buick Encore | $500 | $500 |
| Chevrolet City Express | $250 | $250 |
| Chevrolet Colorado (excl. 2SA) | $500 | $500 |
| Chevrolet Cruze (excl. 1SM) | $500 | $500 |
| Chevrolet Equinox | $250 | $250 |
| Chevrolet Impala | $500 | $500 |
| Chevrolet Low Cab Forward | $500 | $500 |
| Chevrolet Malibu (excl. 1VL)  | $500 | $500 |
| Chevrolet Silverado | $500 | $1,000 |
| Chevrolet Suburban | $500 | $1,000 |
| Chevrolet Tahoe | $500 | $1,000 |
| Chevrolet Traverse (excl. 1L0) | $500 | $1,000 |
| GMC Acadia | $500 | $1,000 |
| GMC Canyon | $500 | $1,000 |
| GMC Terrain  (excl 2SA) | $500 | $500 |
| GMC Sierra | $500 | $1,000 |
| GMC Yukon | $500 | $1,000 |
| GMC Yukon XL | $500 | $1,000 |
Private Offer for AGC Members – 2017 Eligible Vehicles:
| | | |
| --- | --- | --- |
| Vehicle: | Retail: | Fleet: |
| Buick Enclave | $500 | $1,000 |
| Chevrolet City Express | $250 | $250 |
| Chevrolet Low Cab Forward | $250 | $250 |
| Chevrolet Cruze | $500 | $500 |
| Chevrolet Equinox | $500 | $500 |
| Chevrolet Colorado | $500 | $500 |
| Chevrolet Express | $500 | $1,000 |
| Chevrolet Impala | $500 | $500 |
| Chevrolet Malibu  | $500 | $500 |
| Chevrolet Silverado | $500 | $1,000 |
| Chevrolet Suburban | $500 | $1,000 |
| Chevrolet Tahoe | $500 | $1,000 |
| Chevrolet Traverse | $500 | $1,000 |
| GMC Acadia | $500 | $1,000 |
| GMC Acadia Limited | $500 | $1,000 |
| GMC Canyon | $500 | $1,000 |
| GMC Savana | $500 | $1,000 |
| GMC Sierra | $500 | $1,000 |
| GMC Terrain | $500 | $500 |
| GMC Yukon | $500 | $1,000 |
| GMC Yukon XL | $500 | $1,000 |
Private Offer for AGC Members –​ 2016 Eligible Vehicles:
| | | |
| --- | --- | --- |
| Vehicle: | Retail: | Fleet: |
| Buick Enclave | $500 | $1,000 |
| Buick LaCrosse | $500 | $500 |
| Chevrolet City Express | $250 | $250 |
| Chevrolet Low Cab Forward | $250 | $250 |
| Chevrolet Colorado | $500 | $500 |
| Chevrolet Express | $500 | $1,000 |
| Chevrolet Impala | $500 | $500 |
| Chevrolet Malibu Limted | $500 | $500 |
| Chevrolet Malibu  | $500 | $500 |
| Chevrolet Silverado | $500 | $1,000 |
| Chevrolet Suburban | $500 | $1,000 |
| Chevrolet Tahoe | $500 | $1,000 |
| Chevrolet Traverse | $500 | $1,000 |
| GMC Acadia | $500 | $1,000 |
| GMC Canyon | $500 | $1,000 |
| GMC Savana | $500 | $1,000 |
| GMC Sierra | $500 | $1,000 |
| GMC Yukon | $500 | $1,000 |
| GMC Yukon XL | $500 | $1,000 |
1 Private offer amount varies by model.  Retail and Fleet deliveries for City Express receive a $250 offer.  Retail deliveries for all other eligible vehicles receive a $500 offer Fleet deliveries on the following vehicles receive a $1,000 offer: Buick Enclave, Chevrolet Traverse, Silverado, Suburban, Tahoe, Express, GMC Acadia, Sierra, Savana, Yukon/XL.  All other Fleet deliveries on eligible vehicles will receive a $500 offer.  Not compatible with other private offers. Take delivery by 1/2/2018.  Not valid on prior purchases. Compatible with many current incentives. Incentives are subject to change without notice. FAN number required.  See dealer for complete details.
2 Incentives are subject to change. This offer may not be combined with other private offers and this offer is not valid on prior purchases.
3 To qualify, vehicles must be used in day-to-day operations of your business and not solely for transportation purposes. Must provide proof of business. Visit gmbusinesschoice.com or your Chevrolet or GMC dealer for details. Take delivery by 1/2/2018