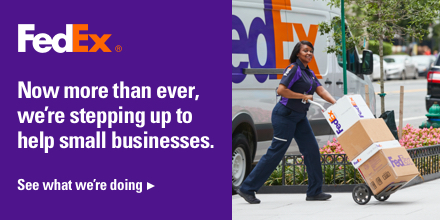 FedEx is giving $1 million to small businesses
Small businesses strengthen the economy and make the world more vibrant, creating jobs, as well as unique products, services and spaces. Communities depend on small businesses, especially in these trying times.
Many small businesses are hurting right now. Whether you're making the move to selling and shipping online or you're ramping up your safety and cleanliness measures to keep customers and employees safe, you're putting your all into not just surviving but becoming more creative and resilient than ever.
To honor that spirit, FedEx is committing to provide $1 million in grants for small businesses in the U.S. Each grant recipient will receive $5,000, plus a $500 credit from FedEx Office that can be used for printing banners, posters, floor graphics, custom branded boxes, and more. 

Deadline to apply for a grant is June 12, 2020, at 11:59:59 p.m. ET. 
Get started. Keep saving.
AGC Members save an average of $528 annually
Join the FedEx Advantage® program and the discounts keep coming. AGC members will enjoy savings of up to 78% on select services.✝ The program is free to join and no minimum shipping, copy or print requirements to take advantage of this great member benefit. What's more, you may be eligible for other special offers and promotions. Sign up now or call 1.888.708.4100. 
For FedEx shipping services, you can save up to:
29% on select FedEx Express® U.S. services
25% on select FedEx Express international services
20% on select FedEx Ground® services
10% on select FedEx Home Delivery® services
78% on select FedEx Freight® services

✝FedEx shipping discounts are off standard list rates and cannot be combined with other offers or discounts. Discounts are exclusive of any FedEx surcharges, premiums, minimums, accessorial charges or special handling fees. Eligible services and discounts subject to change. Discounts include a 5% discount for creating shipping labels for eligible FedEx Express® shipments using FedEx Ship Manager® at fedex.com or other electronic shipping solutions. For eligible FedEx® services, rates and electronic shipping solutions please call 1.800.GoFedEx 1.800.463.3339. See the applicable FedEx Service Guide or FXF 100 Series Rules Tariff for terms and conditions of service offers and money-back guarantee programs.