Learn from Real Construction Experts in Real Time with Virtual Learning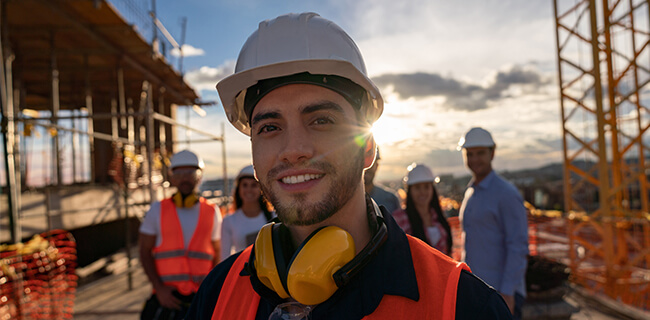 Introducing AGC's Live Virtual Training. The same high-quality learning experience and expert instruction you expect from AGC in-person classroom training from the comfort of your home or work computer.
AGC of America offers a number of educational programs designed to improve the performance of construction companies and individuals in the industry. Choose from Lean, BIM, Project Management and Supervisor Training
About AGC's Live Virtual Training Courses
Advance your career and earn continuing education credits. All courses feature a live instruction via the Zoom platform. Courses are available in both half-day and full-day programs to accommodate your learning schedule. Ideal for construction professionals looking to learn without the hassle of traveling.
All course materials are included with registration
Upon completion, earn CEUs and a Certificate of Completion.
Earn your CM-BIM or CM-Lean credential with the BIM or Lean series of classes
Participate in interactive discussions, scenarios and activities throughout the courses
Discounts are available for AGC Members.
Upcoming Courses
February 24, 2022 - March 24, 2022
Tuesdays and Thursdays 1-5 pm EDT
Member Registration Fee: $1,450 | Non Member Registration Fee: $2,000
March 8- March 24, 2022
Tuesdays and Thursdays 9-1 pm EDT
March 29, 2022 - May 19, 2022
Tuesdays and Thursday 12-3 pm EDT
Member Registration Fee: $2,450 | Non Member Registration Fee: $3,425

Learn more about the Courses
Lean Constructions Education Program
Building Information Modeling Education Program
Construction Supervision Fundamentals
Project Management Development Program
Cancellation Policy
Cancellation Policy: A full refund will be given to cancellations made 14 calendar days prior to the class kick off. After such time, no refunds will be given. Replacements are acceptable and must be submitted via email to rockkie.dunton@agc.org.

AGC reserves the right to cancel programs up to 10 days prior to start date if a minimum number of attendees is not met.
Questions: Email - education@agc.org.