The Associated General Contractors of America (AGC) proudly offers the Lean Construction Education Program (LCEP), delivered via Zoom, in a series of three-hour sessions on Tuesdays and Thursdays. The Technology Check session is May 31st, and classes run June 7th through July 26th from 12 to 3 PM ET.

All students who complete the series are eligible to take the CM-Lean Exam and earn your Certificate of Management - Lean Construction

About AGC's Lean Construction Education Program

Lean Construction is driven to minimize costs and maximize value on each project completed, challenging all stakeholders to develop and apply better ways to manage the overall construction process. 

To develop the tools needed to build lean, AGC has developed the Lean Construction Education Program. Construction professionals at all experience levels will learn the building blocks necessary to transform their projects and companies into a lean operating system.

AGC's Lean Construction Education Program is a series of courses that progressively cover a range of topics essential to Lean Construction, including:

⦁    Variation and pull in production
⦁    Lean Workstructuring, supply chains, and assembly
⦁    Production management
⦁    Management by values
⦁    Problem-solving principles and tools

This program is offered by AGC of America beginning on Tuesday, June 7, 2022. 
Courses will be offered online via Zoom platform, webcam required for participation. (Fee includes electronic course materials) 

Schedule of Classes (students are to attend all classes)  
| Date | Time (ET) | Topics |
| --- | --- | --- |
| May 31 | 12 to 1 PM | Technology Check |
| June 7, 9, 14 | 12 to 3 PM | Unit 1 – Variation in Production Systems & Unit 2 Pull in Production  |
| June 16, 21, 23 | 12 to 3 PM | Unit 3 – Lean Workstructuring & Unit 4 The Last Planner® System |
| June 28, 30 | 12 to 3 PM | Unit 5 – Lean Supply Chain and Assembly |
| July 12, 14 | 12 to 3 PM | Unit 6 – Lean Design and Pre-construction |
| July 19, 21 | 12 to 3 PM | Unit 7 – Problem-solving Principles and Tools |
| July 26 | 12 to 2 PM | CM-Lean Exam Prep (optional) |
Cost for the program is $2,450.00 for members and $3,425.00 for non-members. Includes electronic course materials.
Register today – only 28 spots available!! 
Cancellation Policy: A full refund will be given to cancellations made 14 calendar days prior to the class kick off. After such time, no refunds will be given. Replacements are acceptable and must be submitted via email to rockkie.dunton@agc.org.

AGC reserves the right to cancel programs up to 10 days prior to start date if a minimum number of attendees is not met.
Questions: Email - education@agc.org.

Instructor:

Ryan Popp, Associate Consultant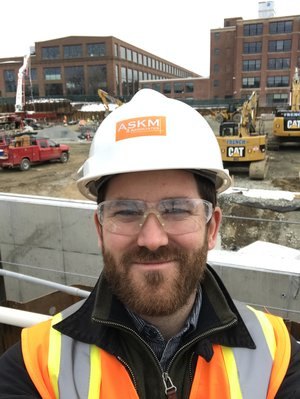 Ryan has helped coach and encourage over twenty project teams towards utilizing the various levels of the Last Planner® System on projects throughout New England. As an associate consultant, Ryan co-facilitates corporate and trade level trainings and coaches Lean journeys. Ryan's skill sets are in Lean Construction, management techniques, and meeting facilitation. 
Ryan is the marketing director for the LCI Southern New England, Community of Practice, as well as an approved instructor for the AGC. Ryan holds Construction Management Lean Certification from the AGC. He has a background in passive construction and Permaculture as it relates to design, building, and agriculture.