Construction Safety Week, May 2 - 6, is an annual event in which people, companies, and even competitors, work together and celebrate the incredibly hard work by people in our industry who make safety the foundation of everything they do. The OSHA National Safety Stand-Down to Prevent Falls in Construction, held during the same week, raises fall hazard awareness across the country in an effort to stop fall fatalities and injuries.
All the resources you need to celebrate Construction Safety Week and recognize the OSHA National Safety Stand-Down to Prevent Falls in Construction can we found on their respective webpages. AGC is a proud supporter of both events and below you will find some additional events and resources to add to your May 2 - 6 schedule. New resources will be added periodically.
Construction Safety Week
Click HERE to access all Construction Safety Week resources. Below are some additional resources. 
Podcast: Preparing for Safety Week 2022
Construction Safety Week started in 2014, when more than 40 national and global construction firms comprising the Construction Industry Safety Initiative (CISI) group and the Incident and Injury Free (IIF) Forum joined forces with a single aim: to inspire everyone in the industry to be leaders in safety. On this episode, Ken Aldridge of Aldridge Electric, and Mike Burke of Alberici Constructors, both serving as chairs on the Safety Week committee, share some history of the tradition, what this annual campaign means to them, and how you can participate. 
WebEd: Address the Stress: Mental Health for You and Your Teams
May 5, 2022 | 2:00pm to 3:00pm Eastern | Register Now
Have you been feeling down, stressed, overwhelmed or just "over it?"
For starters, you aren't alone. This is a trying time for all of humanity. And we are going to help you with that! Join us for an overview of a new Mental Health Best Practices Guide, as well as lots of helpful tools and information, mixed with empathy for your unique situation. Attendees will be given FREE open-access resources and tools to implement into their existing worker-safety & health programs, as well as some healthy coping and resilience skills for themselves.
Speakers
Mandi Kime, Director of Safety, AGC of Washington
Brandon Anderson, Vice President of Safety, AGC of Missouri
ClickSafety
Thank you for the sacrifice and tireless effort you put forth to keep our country going! In celebration of construction workers, all AGC members will receive a 20% discount on ClickSafety's safety and health training courses during the month of May. ClickSafety, an AGC Preferred Provider, is proud to support you through innovative compliance training to protect the lives of workers and the safety record of America's biggest projects. 
Instructions: Go to www.clicksafety.com/agc simply select the course, register and purchase.  Your 20% discount is automatically applied. 
AGC Members: Get 20% off any online safety course at www.clicksafety.com/agc through May 31st. Discount is automatically applied.  
Milwaukee Tool
Schedule a 2022 Safety Week training event with Milwaukee Tool! Click HERE.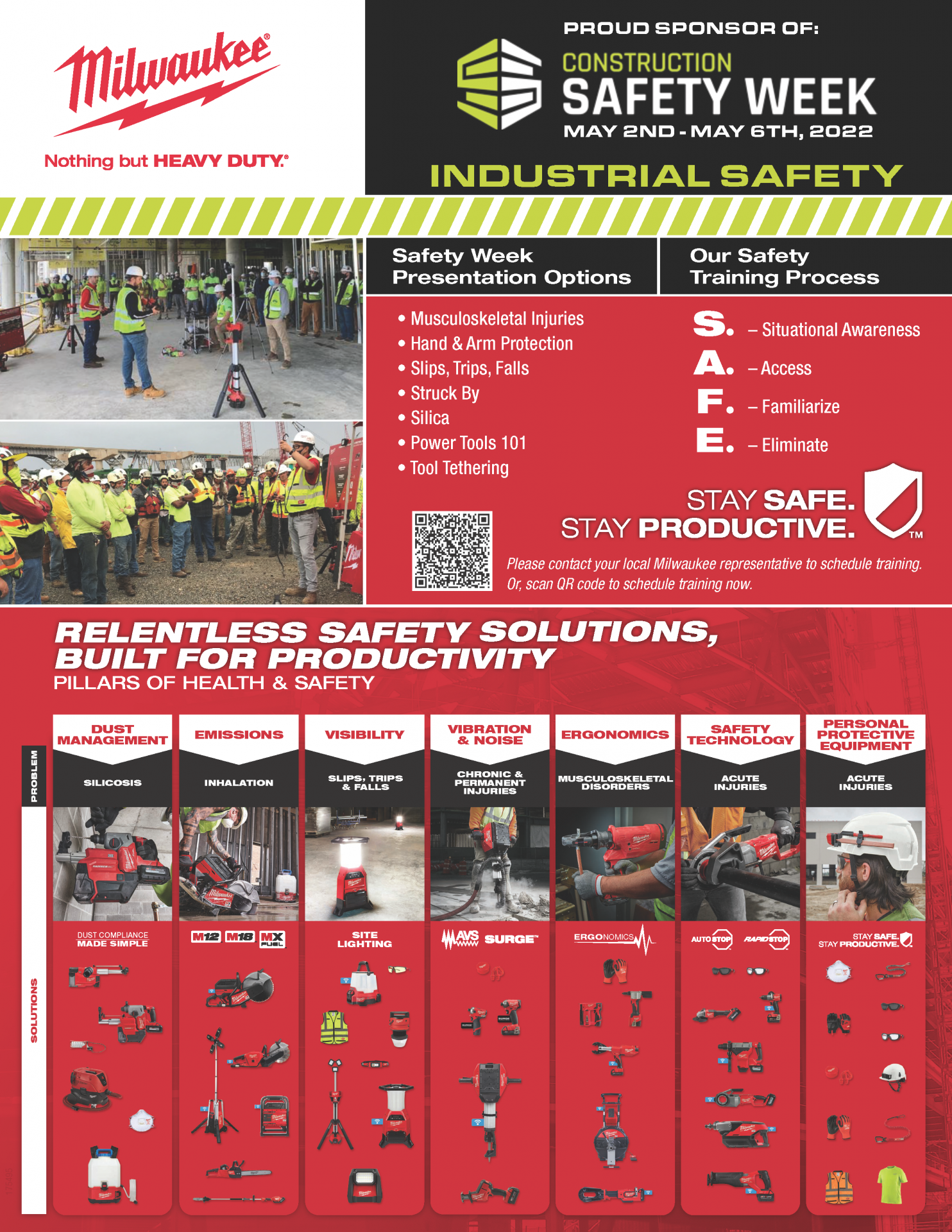 Procore
On-Demand Webinar: How Industry Leaders are Shaping the Future of Safety through Culture
Safety in construction is more than just rules and regulations. It's focusing on what we can do to make sure everyone gets home in one piece. Sharing best practices, celebrating progress, learning from others' experiences it all comes down to protecting our most precious resource: people. Join representatives from across the industry as they discuss how they're using technology to make safety essential to their company culture. Learn More and Watch
Procore Safety Qualified
Procore Safety Qualified is an educational certification course with comprehensive and practical recommendations to staying healthy and focused. Learn More and Register
Culture of CARE
Culture of CARE is challenging leaders to take a bold and visible step towards ensuring their workplaces are welcoming, safe and inclusive for an increasingly diverse and talented pool of workers by taking the Culture of CARE pledge. Once you sign the pledge, Culture of CARE provides companies with tools and resources to help establish a Culture of CARE in their workplaces. Learn more at www.BuildCulture.org.
The companies who commit to a Culture of CARE aren't passively thinking about their company culture. They are actively working to ensure that every employee – from the CEO to the laborer – has the opportunity to feel valued, respected and heard. Companies who commit to a Culture of CARE believe that everyone has the right to a work environment that is free from harassment, hazing and bullying. You'll be in good company – see the list of Impact Champions who have already taken the pledge.
Mental Health & Suicide Prevention in Construction - How to Build Wellness Programs with Impact
The construction industry is raising awareness and encouraging open discussion about mental health and substance abuse to reduce suicide in the workforce. The COVID-19 pandemic has added stress, anxiety, and fear to contractors' already high risk of suicide. We can all agree this is a scary subject and we need to address the public health crisis in our country. But how do we heal our workforce? Please use the following resources to help you spot warning signs, start the conversation, and provide support to those who need it – which can save lives. It takes construction professionals at all levels working together and with their risk partners to build a culture of caring and prevention. Click HERE for further information and to watch a session on this topic recorded as part of AGC's 2021 Construction Risk Management Conference. 
OSHA National Safety Stand-Down to Prevent Falls in Construction
Click HERE to Access all OSHA Stand-Down Resources. Below are some additional resources. 
Fall Protection Training for the Construction Industry
Consistently, 34-39% of construction fatalities are from falls. Each year, falls account for the greatest number of fatalities in the construction industry, especially with small businesses.  On average, nearly 400 workers are killed and more than 100,000 are injured as a result of falls in the construction industry each year.  To assist with training on fall protection AGC has provided each module for download below. These modules were developed under the OSHA Susan Harwood Training Grant Program.
Ladder Safety Training - American Ladder Institute
Falls are the leading cause of death in construction and every year falls from ladders make up nearly a third of those deaths. Falls from ladders can be prevented and lives can be saved by following the safe work practices. 
The American Ladder Institute (ALI) is a not-for-profit association dedicated to promoting safe ladder use. ALI is the American National Standards Institute (ANSI) approved developer of ladder safety Standards. Standards are technical specifications, developed and tested by subject experts, which prescribe rules governing the safety construction, design, testing, care and use of various types of ladders. ALI was founded in 1947 and has evolved to fit the needs of the membership as the industry has changed. Construction materials and processes have developed according to changes in usage, duty ratings and industry need.